Cornish Pirates: Alan Paver hails commitment after 35-19 Nottingham win
Last updated on .From the section Rugby Union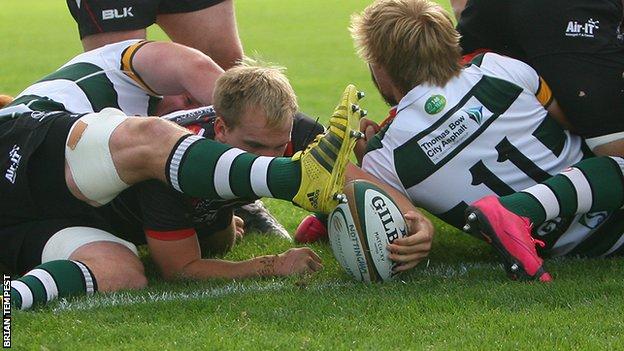 Cornish Pirates coach Alan Paver has hailed the commitment of his squad after their 35-19 win at Nottingham in the Championship.
The Pirates made five changes, including resting skipper Chris Morgan.
Tries from Stuart Townsend, Dan Lee, Tom Duncan and Alex O'Meara secured a second bonus point this season.
"We made a lot of changes within the side and the energy it gave us far outweighed any cohesion issues we may have had," Paver told BBC Cornwall.
"Then when we unloaded the bench it lifted the side and we did all the right things and got our reward we got an intercept at the end, which was very fitting because we deserved that, we deserved to get that five points."
The victory moves the Pirates up to thrid place in the Championship after two wins and a draw in their opening three matches.
"There's going to be more changes next week," added Paver.
"We'll use the bench in exactly the same way, we trust every one of our players to deliver, as long as they stay in the structure and give us what we've got, we can keep moving these pieces around.
"They're committed and they support each other, and the guys we left behind put in a hell of a shift in this week training-wise, which meant the starting side was prepared, the bench supported the guys on the field and when they came on they lifted it."