Northampton Saints: Tom Wood pushed in gym by Frozen's 'Let It Go'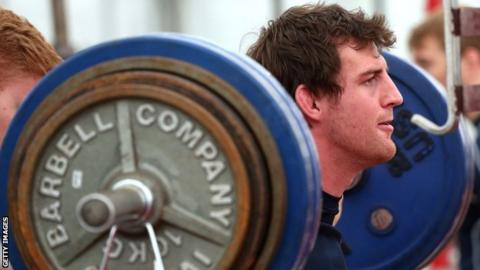 After Wednesday's victory with Club Brugge, Leicester City manager Claudio Ranieri said "the Champions League music woke up" one of his star players, Riyad Mahrez.
Northampton Saints captain Tom Wood looks to slightly different musical scores for motivation.
If you were to take a guess at the music played in a Premiership rugby team's gym, you probably wouldn't jump to Disney tunes - but in the case of the Saints you would be wrong not to.
"We've had it in the gym a few times," Wood, 29, said of the Frozen anthem 'Let It Go'.
In an appearance on BBC Radio Northampton's Saints Show, self-professed Disney fan Wood dominated former Saints and England player Ian Hunter 9-1 in a 'Disney theme tune' quiz.
The flanker revealed not only his musical taste and his favourite film - The Jungle Book - but also explained his passion for Disney films.
"I've always liked them, I like the music," he said. "There are a lot of lessons and a lot of knowledge in the films, a lot of moral guidance."
Perhaps as a result of his penchant for cartoon classics, Wood is not charged with selecting music for the changing rooms.
Team-mates Calum Clark and James Wilson have instead been trusted with that, while Alex Waller provides the tunes for the team's "power ballad day for our power training."
Well wishes from the England coach
Wood, who has not played for England since a disappointing 2015 World Cup campaign, said in March that England coach Eddie Jones described his performances as "distinctly average" during a private telephone call between the two.
"A lot was made of that, I am not bitter about it or hell bent on proving anyone wrong," said Wood, who underwent neck surgery in May.
"I'm pretty confident in the way I play the game and what my strengths and weaknesses are and I'm always working on them.
"Eddie's given me some well wishes for the start of the season. He said he'd heard I had a good pre-season and was looking forward to seeing me back fit after my neck operation, so the ball is in my court I guess."
Northampton, who have lost to Bath and beaten Bristol so far this season, face champions Saracens on Saturday.
You can listen to BBC Radio Northampton's Saints Show every Wednesday at 18:00 BST.