Paul James: Wales and Ospreys prop 'underestimated' severity of eye injury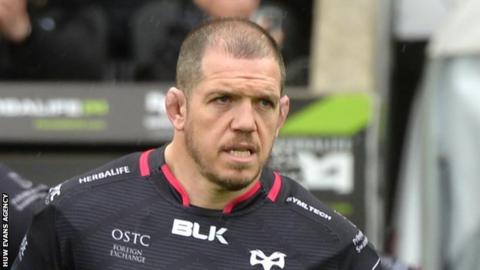 Wales and Ospreys prop Paul James says he underestimated the severity of his recent eye injury.
The 34-year-old had surgery for a detached retina in April and missed the remainder of the 2015-16 season.
James, who has featured in Ospreys' two opening victories in the Pro12 this season, says the injury was more serious than first expected.
"I had it for a while but I didn't realise how serious it was," the former Bath player said.
"You have so many bumps and bangs in rugby, I had a dark patch coming halfway down my vision and I just thought it will clear.
"Until I went in and saw the specialist and he said 'you need an operation immediately', that's when it dawned on me.
"If anything goes wrong with your eyesight, it's not just rugby you have to think about, it's family. I was over the moon it went well."
James recovered in time to travel with the Wales squad to New Zealand but suffered another setback after a calf injury ruled him out of all three tests.
With 66 caps to his name, James hasn't started an international match since Wales' final group game of the World Cup v Australia but says he still wants to be considered.
"After my injuries, my main focus is playing well for the Ospreys but if I can carry on playing well for the region I don't see why I can't carry on for Wales," James said.
The Ospreys go into Saturday's match against Treviso on top of the Pro12 table with two wins and two bonus points.
Young prop Nicky Smith has started both games and James knows he also has a fight on his hands for the regional shirt.
"The side is full of youngsters. If you're not on your game in training you're going to have a young kid coming behind you who will take the jersey.
"That keeps you fresh, keeps you going, keeps you motivated," he added.