Cornish Pirates: Joint coach Gavin Cattle praises bench after Ealing comeback draw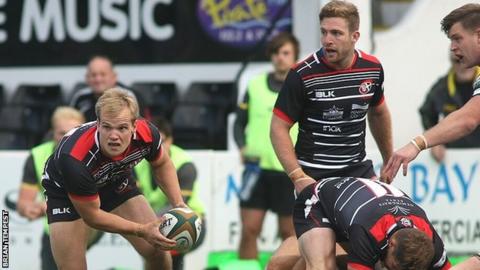 Gavin Cattle praised the impact of the Cornish Pirates replacements as they recovered from 21 points down to draw 31-31 with Ealing in the Championship.
Tries from Matt Evans, Tom Duncan, Kyle Moyle and Stuart Townsend completed the comeback at the Mennaye.
"I thought our bench gave us that energy and showed character," joint coach Cattle told BBC Radio Cornwall.
"If one team's more energised you can see the difference and in fairness to our boys they addressed it."
Pirates could have snatched victory in the final minutes after winning a penalty about 40 yards out, but elected to run the ball instead of kicking for goal.
"It's easy sitting up there and saying 'why not have a pop', but it is a strong wind out there," Cattle added.
"Stu (Townsend) wouldn't just tap and go for no reason - that's up to them on the pitch, they get a feeling for it and you have to trust them.
"Stu did well when he came on, Jake Parker added energy, Paul Andrew, in his first time on the pitch in a while, looked sharp and strong - I think they all impacted very well."