Alan Paver: Cornish Pirates coach deserves more recognition says Gavin Cattle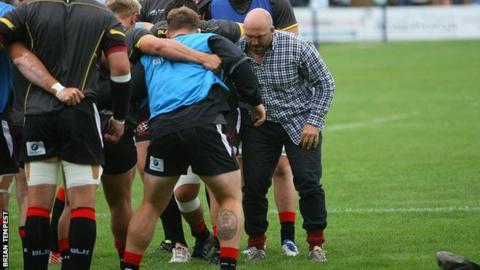 Cornish Pirates coach Alan Paver does not get the plaudits his coaching abilities deserve, according to fellow Pirates coach Gavin Cattle.
The pair took over the side in the summer after Ian Davies' departure.
Veteran prop Paver is not only responsible for the coaching the Championship club's forwards but also kicking and defence.
"People don't credit him as he's got one hell of a rugby brain," Cattle told BBC Radio Cornwall.
"He's expanded over the last couple of seasons to the kick game and to defence. He's invaluable to us and he's a great man to work with.
"With Al, if you give him a clear task he'll give you a clear outcome, so he's a good man."
The duo oversaw the club win their opening match of the season away at Bedford, and Cattle says Paver's hands-on approach with the forwards was excellent.
"You had to see the warm up. Us coaches wear chinos and a shirt as our gear, and he's in his chinos, his shirt, his boots are on and his trousers are tucked inside his socks and he's warming up the scrum," Cattle added.
"The man's a lunatic, but he certainly knows the scrum and maul."