Alan Paver: Cornish Pirates 'fabulous' in Championship opening win at Bedford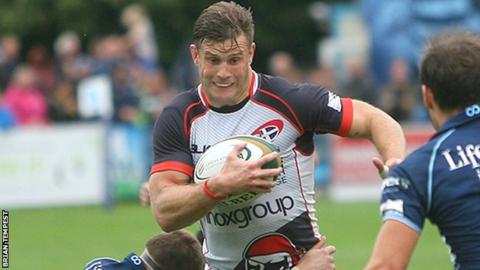 Cornish Pirates coach Alan Paver has hailed his young side after their surprising 26-17 opening day win at Bedford in the Championship.
Matt Evans and Tom Duncan scored tries for the Pirates, with Will Cargill teeing up the extras and kicking four penalties against last season's beaten play-off semi-finalists.
"It's absolutely fabulous," Paver told BBC Radio Cornwall.
The game was the first with Paver and Gavin Cattle in joint charge.
The former players have stepped up from their coaching roles this summer after director of rugby Ian Davies left the club.
"One of the things that we have is a lot of energy and passion - we've got a lot of young guys who are hungry to achieve," Paver said.
"The Cornish Pirates has invested in the young guys, and especially the local lads, and we have great help from Exeter, so when they come down to us they add the energy and the passion.
"But you can't get carried away - it's the first game of the season and Bedford, no doubt, will improve and they'll be a different animal as they get into their stride.
"We saw that there are areas of the game hat we've got to improve in, which is great, as I would hate to say that we played at our potential and we've got nowhere to go from here.
"We beat a good side, but we've got to make sure we polish what we need to do for next week to move on."