Fiji sevens coach Ben Ryan gifted land and chief's name after Rio Olympics gold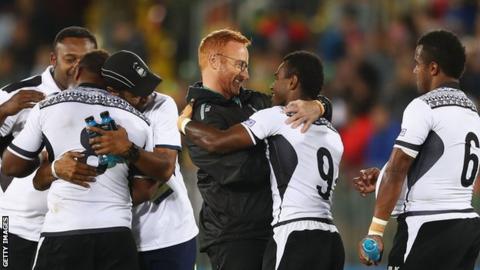 English coach Ben Ryan has been given three acres of land in Fiji after helping the Pacific nation to their first Olympic medal.
Ryan led Fiji's rugby sevens side to gold with a 43-7 win over Great Britain in the final at the Rio Olympics.
The Fiji sevens team tweeted that Ryan had been given the land and a "chiefly name" at a ceremony in Serua.
Last week, the 43-year-old was awarded the Companion of the Order of Fiji, the highest honour in the country.
Ryan, who coached England's sevens side from 2007 to 2013, plans to step down as Fiji coach and says he has had almost 20 job offers.
Serua is one of the 14 provinces that make up Fiji.