Graham Dawe: Cornwall head coach questions County Championship revamp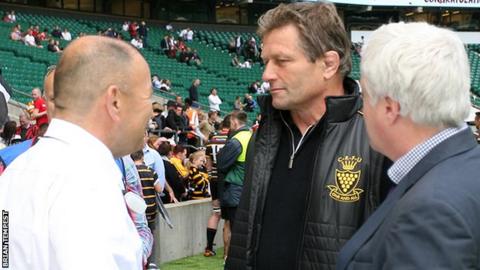 Cornwall head coach Graham Dawe has questioned a change to the format of the County Championship, which they have won for the last two years.
The top-tier has been increased to 12 teams, split into north and south pools, but each county will only play three of their five group rivals.
Only the pool winners will advance to the final, meaning a team could win all of its games yet still not go through.
"On the face of it, it seems a strange format," Dawe told BBC Sport.
"It would've been nice to play five games, if they could fit it in the calendar, or even to have a semi-final stage.
"You've got to do well in all three games now, and you've got to score well."
Cornwall's 2017 County Championship pool fixtures
Saturday, May 6 - Surrey (away)
Saturday, May 13 - Devon (away)
Saturday, May 20 - Hertfordshire (home)
The restructuring of the competition, also known as the Bill Beaumont Cup, has resulted in Devon being promoted and they will host arch-rivals Cornwall in the pool stage.
Under the old system, eight teams were placed in two groups of four and played each opponent once, knowing they would make the final if they won all of their matches.
Dawe, a former England international hooker, had anticipated a revamp of the County Championship after Cornwall beat Cheshire in May's final at Twickenham.
"Players at this level love the opportunity to play at Twickenham so it's great uphold that tradition," he added.
"It'll be nice to face Devon - all the fixtures over the years have been quite keenly fought and people just love to get the bragging rights."