Plymouth Albion chairman Ali Hannaford targets promotion to Championship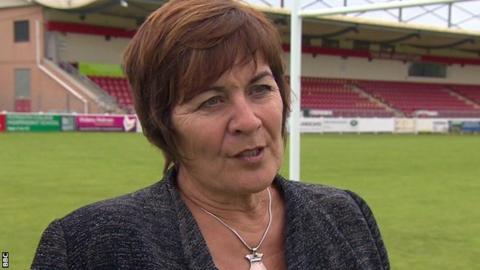 Plymouth Albion chairman Ali Hannaford says she wants the club to gain promotion back to the Championship.
The Devon-based businesswoman became the first female chairman in the club's 140-year history earlier this week.
"I absolutely would like to think that we're going to be able to be in a position where we will go up to the Championship," she told BBC Sport.
"I would like to have an increased following, and increased engagement with everybody in and around Plymouth."
Albion were taken over by former players Bruce Priday and Dave Venables in April, having gone into administration.
The club has had a long history of financial problems, having almost gone into administration in 2015,2012 and 2010, and were relegated to National One in April 2015.
But the 55-year-old, who runs a food manufacturing company, says her commercial experience will help ensure the club remain more financially secure.
"I've never been involved in a business that's been losing money, and I don't intend to start now," she said.
"I don't know much about how it was being run before, but from what I've seen there are lots of things that we can do differently here to make a big difference.
"I've built a good successful business, I've built a fantastic team around me, I employ 105 people in total.
"I think the lessons I've learned through business, the controls and determination I've got to run a profitable business, I can bring here and share that with the team that are here."
And she says she has no qualms about being the club's first-ever female chairman.
"I'm very honoured to be asked, it doesn't phase me in the slightest," she said. "I've been involved in a business world where it's been predominantly men over the years, but you do a job based on what you can do, not on your sex."