Greg Holmes: Exeter's Australia prop suited to English game - Rob Baxter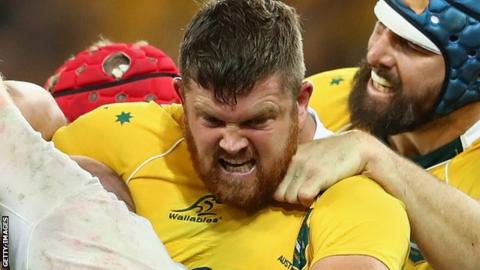 Prop Greg Holmes will be well suited to English rugby, according to Exeter Chiefs head coach Rob Baxter.
Holmes, who featured in all three of Australia's tests in their 3-0 series loss to England, is moving to the Premiership runners-up this summer.
The Queensland Reds player started for Australia in the 2015 World Cup final.
"I think he's a very positive scrummager, I think he's a scrummager who will really suit the Premiership," Baxter told BBC Sport.
"Everything about his set-up and the way he looks is very legal and I think the referees will really like how he looks and the picture he shows at the scrum."
Despite Australia losing a home series to England for the first time, Baxter was pleased with what he saw of the 33-year-old.
"I thought he did really well," Baxter said. "The majority of all three games were high pressure almost right to the final whistle. He had a really good involvement in all three games.
"He is a mobile guy, he's a guy who can get around and play international rugby and live with the pace of what were three really high tempo, high physicality games, so I was really pleased with how he went at the weekend."