World Rugby U20 Championship fixtures, results & tables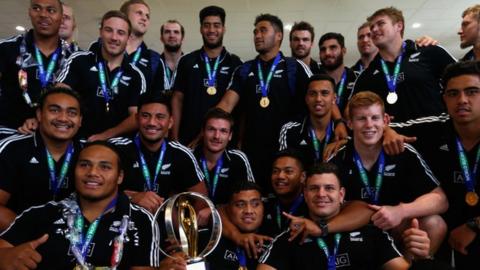 The World Rugby U20 Championship takes place in Manchester and Salford between 7-25 June.
All of the home nations are involved in the 12-team event, with Ireland and Wales in Pool A, and England and Scotland in Pool B.
New Zealand are the current champions after beating England 21-16 in last year's final in Italy.
The matches will be held at Salford Red Devils and Sale Sharks' AJ Bell Stadium and Manchester City's Academy Stadium.
Fixtures
Saturday, 25 June
Play-off for 11th place
Italy 41-17 Japan
Play-off for ninth place
Georgia 24-27 France
Play-off for seventh place
Scotland 19-42 Wales
Play-off for fifth place
Australia 24-55 New Zealand
Play-off for third place
Argentina 49-19 South Africa
Final
Ireland 21-45 England
Results
Monday, 20 June
Semi-finals
Georgia 18-17 Italy
New Zealand 71-12 Wales
Ireland 41-27 Argentina
France 37-7 Japan
Scotland 19-35 Australia
England 39-17 South Africa
Wednesday 15 June
Pool A
Ireland 35-7 Georgia
New Zealand 18-17 Wales
Pool B
Scotland 27-19 Italy
England 17-13 Australia
Pool C
Argentina 39-20 Japan
South Africa 40-31 France
Saturday 11 June
Pool A
New Zealand 24-33 Ireland
Wales 10-9 Georgia
Pool B
Australia 38-10 Italy
England 44-0 Scotland
Pool C
France 46-14 Japan
South Africa 13-19 Argentina
Tuesday 7 June
Pool A
Wales 25-26 Ireland
New Zealand 55-0 Georgia
Pool B
Australia 10-15 Scotland
England 48-10 Italy
Pool C
France 15-24 Argentina
South Africa 59-19 Japan
| Pool A | P | W | D | L | BP | Pts |
| --- | --- | --- | --- | --- | --- | --- |
| Ireland | 3 | 3 | 0 | 0 | 1 | 13 |
| New Zealand | 3 | 2 | 0 | 1 | 2 | 10 |
| Wales | 3 | 1 | 0 | 2 | 3 | 7 |
| Georgia | 3 | 0 | 0 | 3 | 1 | 1 |
| Pool B | P | W | D | L | BP | PTS |
| --- | --- | --- | --- | --- | --- | --- |
| England | 3 | 3 | 0 | 0 | 2 | 14 |
| Scotland | 3 | 2 | 0 | 1 | 1 | 9 |
| Australia | 3 | 1 | 0 | 2 | 3 | 7 |
| Italy | 3 | 0 | 0 | 3 | 0 | 0 |
| Pool C | P | W | D | L | BP | PTS |
| --- | --- | --- | --- | --- | --- | --- |
| Argentina | 3 | 3 | 0 | 0 | 1 | 13 |
| South Africa | 3 | 2 | 0 | 1 | 3 | 11 |
| France | 3 | 1 | 0 | 2 | 2 | 6 |
| Japan | 3 | 0 | 0 | 3 | 0 | 0 |
England squad: Sam Aspland-Robinson (Harlequins), Darren Atkins (Bath), Josh Bainbridge (Yorkshire Carnegie), Lewis Boyce (Yorkshire Carnegie), Theo Brophy-Clews (London Irish), Callum Chick (Newcastle), Will Evans (Leicester), Matt Gallagher (Saracens), Max Green (Yorkshire Carnegie), Billy Keast (Exeter), Andrew Kitchener (Worcester), Max Malins (Saracens), Harry Mallinder (Northampton), Joe Marchant (Harlequins), Zach Mercer (Bath), George Nott (Sale), George Perkins (Saracens), Harry Randall (Gloucester), Jack Singleton (Worcester), Stan South (Harlequins), Will Stuart (Wasps), Huw Taylor (Worcester), Ollie Thorley (Gloucester), Billy Walker (Saracens), Jack Walker (Yorkshire Carnegie), Tom West (Wasps), Johnny Williams (London Irish), Jack Willis (Wasps)
Ireland squad: Stephen Kerins (Connacht), Niall Saunders (Exiles), Bill Johnston (Munster), Johnny McPhillips (Ulster), Conor O'Brien (Leinster), Shane Daly (Munster), Jimmy O'Brien (Leinster), Paul Kiernan (Munster), Jacob Stockdale (Ulster), Terry Kennedy (/Leinster), Hugo Keenan (Leinster), Matthew Byrne (Leinster); Andrew Porter (Leinster), James Bollard (Leinster), Vakh Abdaladze (Leinster), Adam McBurney (Ulster), Vincent O'Brien (Munster), Conor Kenny (Connacht), Benn Betts (Munster), Cillian Gallagher (Connacht), James Ryan (capt, Leinster), Sean O'Connor (Munster), Evan Mintern (Munster), Greg Jones (Leinster), Will Connors (Leinster), Max Deegan (Leinster), Kelvin Brown (Munster), David Aspil (Leinster)
Scotland squad: Dan Elkington (Melrose), Zander Fagerson (Glasgow), Murray McCallum (Heriot's), Callum Sheldon (Leeds Beckett), George Thornton (Bishop Burton College); Lewis Anderson (Ayr), Jake Kerr (Boroughmuir); Stephen Ainslie (Currie), Scott Cummings (Glasgow), Andrew Davidson (capt, Glasgow Hawks), Callum Hunter-Hill (Stirling County); Scott Burnside (Boroughmuir), Ally Miller (Melrose), Jamie Ritchie (Edinburgh), Matt Smith (Glasgow Hawks), Lewis Wynne (Stirling County); Hugh Fraser (Heriot's), Adam Hastings (Bath), Charlie Shiel (Currie); Tom Galbraith (Melrose), Rory Hutchinson (Northampton), Matt McPhillips (Currie), George Taylor (Melrose); Darcy Graham (Hawick), Cameron Gray (Currie), Blair Kinghorn (Edinburgh), Robbie Nairn (Harlequins) Ben Robbins (Currie)
Wales squad: Tom Phillips (captain, Scarlets), Rhys Fawcett (Scarlets), Corey Domachowski (Cardiff Blues), Leon Brown (Dragons), Kieron Assiratti (Cardiff Blues), Dillon Lewis (Cardiff Blues), Liam Belcher (Cardiff Blues), Dafydd Hughes (Scarlets), Adam Beard (Ospreys), Seb Davies (Cardiff Blues), Shane Lewis-Hughes (Cardiff Blues), Shaun Evans (Scarlets), Harrison Keddie (NG Dragons), Morgan Sieniawski (Cardiff Blues), Josh Macleod (Scarlets); Reuben Morgan-Williams (Ospreys), Declan Smith (Scarlets), Daniel Jones (Scarlets), Billy McBryde (Scarlets), Jarrod Evans (Cardiff Blues), Kieran Williams (Ospreys), Joe Thomas (Ospreys), Harri Millard (Cardiff Blues), Tom Williams (Ospreys), George Gasson (Dragons), Keelan Giles (Ospreys), Rhun Williams (RGC 1404), Joe Gage (Ospreys)