Worcester boss critical of decision to keep relegation structure
Last updated on .From the section Rugby Union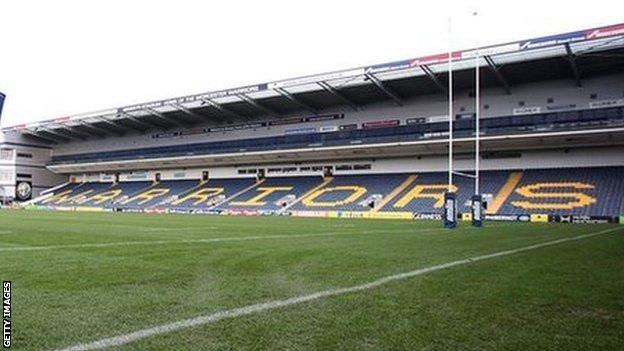 Worcester chief executive Jim O'Toole believes the Rugby Football Union's decision not to scrap promotion and relegation between the Premiership and Championship is a "missed opportunity".
But in a pre-season promotional video, the RFU have said the structure will remain unchanged for 2015-16.
"An opportunity has been missed," O'Toole told BBC Hereford & Worcester.
"We needed all the stars to be aligned between the Premiership, the RFU and the Championship clubs."
Proposals to get rid of promotion and relegation have been on and off the agenda for much of the past decade.
But, with six weeks to go before the delayed domestic season starts, O'Toole was particularly surprised by the way the news that the structure would remain unaltered was broken by RFU boss Rob Andrew.
Rob Andrew's announcement on 2015-16 season
"No change going into 2015-16. The system is exactly the same. There will be promotion and relegation and the play-off structure is as it has been for a number of years." -
Rob Andrew (RFU professional rugby director)
"I was surprised it was released the way it was, in the middle of a fairly generic pre-Championship season video from Rob Andrew," added O'Toole. "I'd have thought it warranted a more formal announcement."
Despite Warriors only returning to the Premiership after a year's absence with victory over Bristol by the narrowest of margins in the Championship play-off final in May, O'Toole has already been quite vocal about the need to remove the threat of relegation.
Worcester's own hopes were for an increased 14-team Premiership, which would have also included last season's chief promotion rivals Bristol, but O'Toole's main concern is avoiding a repeat of the fate which last season befell financially under-equipped London Welsh.
"From a Warriors perspective, we expected it to still be 12 teams," added O'Toole. "But I maintain professional rugby could do with a period of stability for the top clubs that are viable and sustainable businesses to consolidate without the lottery of play-offs or relegation.
"We know the difference between Championship and Premiership budgets is couple of million pounds. The vast majority of Championship clubs are not equipped to come up."