How is Scotland's World Cup squad shaping up?

By Tom English
BBC Scotland
Last updated on .From the section Scottish Rugby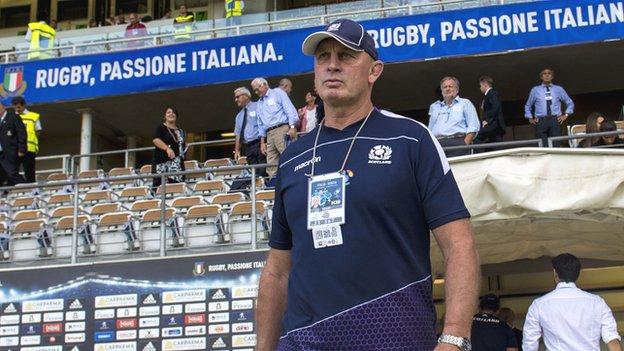 The city of Turin has all kinds of wonders, an array of architecture from the baroque to the rococo to the neo-classical to the art nouveau.
Things have lasted for centuries - a bit like the stupefyingly dull rugby match that took place at the Stadio Olimpico on Saturday night.
It took just 80 minutes for Scotland to beat Italy 16-12, but it felt like an eternity.
It was a game where attacking nous was stifled in a way that made you wonder if the respective coaches had signed a pre-match oath in blood to give away nothing of their playbook ahead of the World Cup.
There was grunt, but little ambition. There were penalties by the barrowload, many at scrum-time, an area of farcical and mind-altering tedium - and not a little concern for Scotland.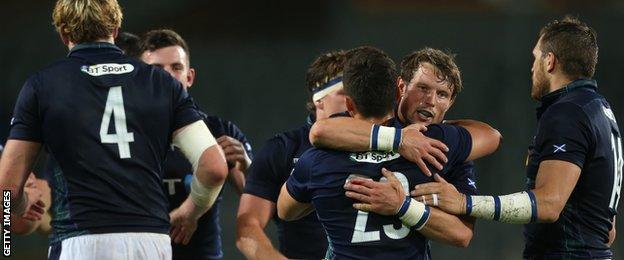 Ultimately, it was a win for Scotland and that's the beginning, the end and the in-between of the story of the night. It was their first victory in 2015.
It meant that Vern Cotter didn't lose his seventh Test in a row as Scotland coach and it also means that this week he won't have to deal with question upon question about what a monster losing sequence is doing to the World Cup effort.
A monkey was released from his back and set free. For now.
The game was won by a rare bit of nous late in the night, some smart stuff from substitute Hamish Watson and then a link between Greig Tonks and Matt Scott, who put Henry Pyrgos away for the score. The sight of Scott running free up the touchline made you want to rub your eyes in disbelief. It was only the second or third time that somebody found themselves with the ball in a sliver of space.
Cotter has now got one game left - against Italy at Murrayfield on Saturday - before he must make his final cut. Plenty of nations have already declared their hand - Australia, Fiji, Argentina among them. In Scotland's group, Samoa and the USA have also announced their 31.
It's inconceivable that Cotter isn't pretty clear in his own mind as to the vast majority of his own selection. Injuries to Alex Dunbar and Ryan Grant will cause some uncertainty, for sure, but in the main he'll know who's going to make it and who's going to get culled.
Not that he's giving anything away. We're left to feast on the crumbs that drop from his table, the tiny clues as to what he might be thinking. Colombo in his pomp couldn't read Cotter. A televisual amalgam of Rumpole of the Bailey, Perry Mason and Saul Goodman from Breaking Bad couldn't break the Kiwi in the witness box.
Where does he stand? Or where do we think he stands?
The troubled front-row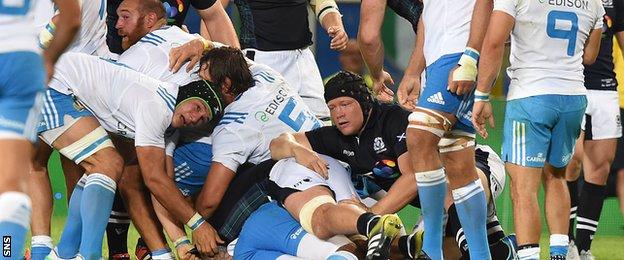 One of the things that came out of Turin was the worrying state of Scotland's scrum and how thin the resources are. There is a worrying injury to Ryan Grant and question marks, in the wake of the Italy game, about Mike Cusack's ability to survive big scrummaging tests.
The first-choice props now look like Alasdair Dickinson and WP Nel with Cusack, Gordon Reid and, injury-permitting, Grant as the other three. Going up against monster packs like South Africa and Samoa, it's a significant area of concern for the Scotland coach.
The number of hookers is one to ponder. Australia are going with two. So are Argentina. It's a risk, especially given the geographical distance involved in flying out a replacement hooker if one of their two gets injured. Many in the game were surprised when Michael Cheika included only two hookers.
Cotter has two number twos nailed-on: Ross Ford and Fraser Brown. Does he also bring Stuart McInally or will he be tempted to go with an extra player in his backline instead? If the coach is struggling with any decision right now, this might be one.
The straightforward second-row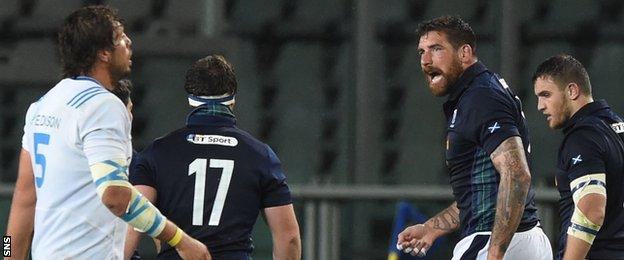 Cotter won't be spending too much time thinking about his four picks. The two Gray brothers, Rob Harley and Grant Gilchrist stand out. Gilchrist's luck is so bad that they might want to put him in quarantine between now and the opening game of the World Cup. He deserves his shot at the tournament. If he avoids injury and illness, he could be a positive character in the squad, whether he's playing or not.
The riddle of the back-row
This is where it gets complicated. The countries that have already declared their 31 are largely going with four flankers and two number eights. This might be different with Scotland because Cotter has already got a back-row forward named as a second-row - Harley.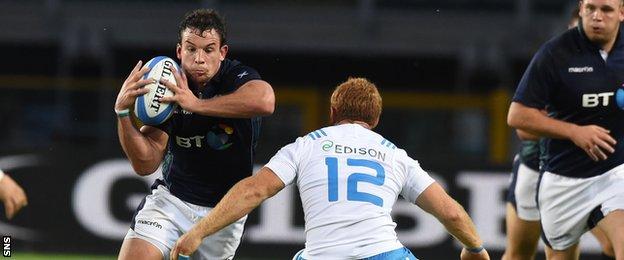 Does he need four flankers as well as Harley?
The number eights appear obvious: David Denton and, when he qualifies, Josh Strauss. Adam Ashe will be in the conversation, but he's the underdog.
The flankers? Blair Cowan is a certainty whether he's deemed a six or a seven. John Hardie, an out-and-out number seven, was busy and aggressive and, at times, dynamic in Turin. Cotter is very sweet on him. Hardie looks like he'll make it. That might be bad news for those of us who think John Barclay deserves his place.
That's two flankers in the bag. Ryan Wilson hasn't yet played a warm-up match but he could be a third given his versatility. If Cotter wants four flankers (not counting Harley) he'll likely go for somebody who gives him something different.
Hamish Watson's appearance off the bench in Turin was excellent. In part, he changed the game with his frenetic work-rate. Watson could yet be a bolter if he gets a chance to build on his claim in the return match with Italy on Saturday.
The half-backs numbers game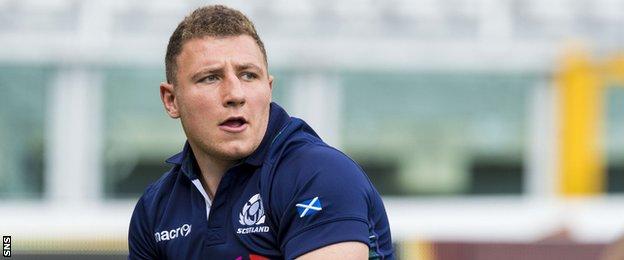 Finn Russell and Duncan Weir are locked-in at number 10. So are Greig Laidlaw and Henry Pyrgos at number nine. Both Australia and Argentina have resisted the urge to pick a third fly-half or scrum-half and instead have gone for an extra wing in Australia's case and an extra centre in Argentina's.
Will Cotter go down the same road? Or will Sam Hidalgo-Clyne make it? Up until Turin he was a shoo-in, a classy and inventive player who could make things happen. The Italy game was a set-back for him. You'd still fancy him to make the cut, but maybe he's not the absolute certainty he was before.
The midfield
The entire rugby nation is sweating on the fitness of Alex Dunbar. He won't play on Saturday nor will he be fit for Paris the week after if Cotter opts to gamble and include him in the 31. Sadly, the clock might beat Dunbar, although you live in hope.
The four without him? Mark Bennett, Peter Horne, Matt Scott and Richie Vernon.
On the wing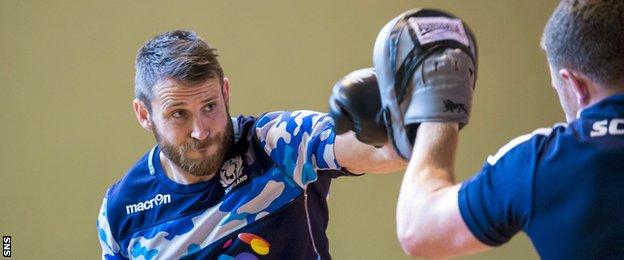 Probably four to go with Tommy Seymour, Sean Lamont and Sean Maitland inked-in, although we haven't yet seen Seymour or Maitland in the warm-up matches. If there's another wing included- and it's far from a stellar cast-list - Tim Visser is favourite, but an uneasy favourite. Rory Hughes was combative on his debut in Turin. Damien Hoyland is a dark horse.
Full-back or full-backs?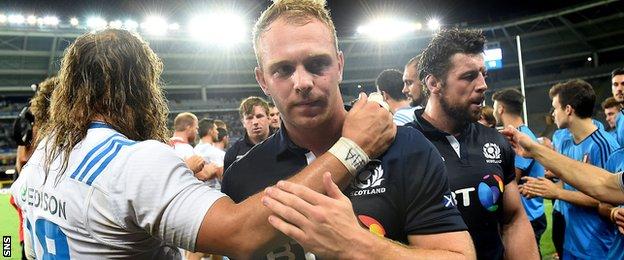 Stuart Hogg might be the only one to go given that Sean Maitland can double-up as a full-back. That's if Cotter thinks he can rely on Maitland's fitness, in which case he might want a different back-up for Hogg which brings us into the realms of Ruaridh Jackson and Greig Tonks, both of whom have been tried at 15 in the last two weeks. Both measured up pretty well.
Jackson and Tonks can be classified as utility backs now and utility, or versatility, is a magic word for Cotter as he tries to piece it all together. He's got 80 minutes study-time before he writes it all down on paper, but you have to think that he's well prepared already.
We have two more weeks of peace-time rugby and then the battles commence soon after. It's getting close now.