London Welsh name Old Deer Park as 2015-16 home ground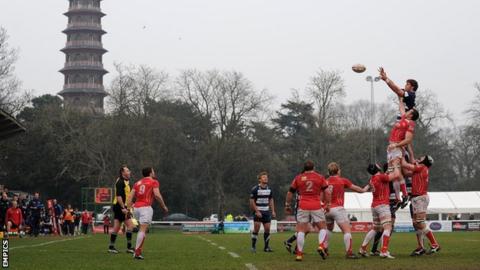 London Welsh are to leave Oxford and return to Old Deer Park in Richmond for the 2015-16 season.
The Exiles, who have played at Oxford's Kassam Stadium since 2012, are still looking for a long-term home.
"We will continue to look at other facilities appropriate for hosting top-level rugby," said a club statement.
Welsh signed a three-year deal to play in Oxford in April 2014, but were relegated from the Premiership last season without winning a game.
That was their second relegation in three seasons, having also returned to the Championship at the first attempt after promotion in 2012.
They decided to remain at the Kassam despite being relegated in 2013, but have now decided it is no longer the best option to continue their tenancy.
London Welsh's woeful campaign
London Welsh conceded 1,021 points in 22 Premiership games last season, finishing with a points difference of -798.
On 17 June, the club's Oxford-based chief executive Mike Stevens stepped down from his role after just a year.
"We have enjoyed a very exciting and challenging period in Oxford these past three years," said chairman Bleddyn Phillips.
"We need to recognise that perhaps the degree of support, both in terms of ground attendance and commercial sponsorship, may not have been quite as extensive as we might have hoped or wished for.
"We believe we have made a considerable contribution to the community in Oxfordshire, both in terms of local clubs and schools, and we feel privileged and pleased to have been able to make such contributions over the past three years to these communities."