Pro12 final: Power and patience pays off for 'best-ever Glasgow'

By John Beattie
BBC Scotland
Last updated on .From the section Rugby Union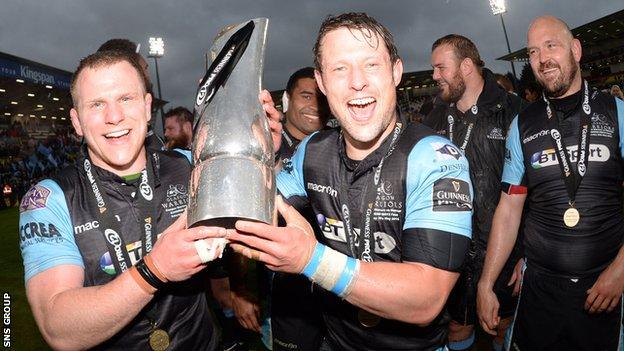 I belong to Glasgow, dear old Glasgow Town... Well who wouldn't want to after that win?
Where does head coach Gregor Townsend go now? Does he stay to try to make Glasgow a European force, or will he feel his job is done? I will start the 'Please stay Gregor' crowd-funding effort.
That's the best Glasgow game I've ever seen. And I am a former captain.
As for Al Kellock and Dougie Hall, they can both retire happy men. Well done.
"Quite a good match," said my BBC Radio Scotland colleague Peter Wright just as Leone Nakarawa, one of the famous 'Fiji Weegies' ran through a gap and fed Robert Harley for the big flanker's first try of the season.
I was thinking: "What the heck is happening?" The energy was self-multiplying.
What struck me at the start was that the Warriors had decided to take on Munster at their source of strength which is, of course, their forward pack. It was one or two pass rugby driving into the heart of the Irish, as if to say: "Right, you think you are looking for forward domination, well cope with this first."
The Warriors were determined to assert some form of dominance at scrum time - certainly they weren't going backwards - and their defensive line exploded forward in unison.
And how good it was to have a referee in Nigel Owens who was prepared to penalise Munster players for tackling Glasgow men beyond the ruck and nowhere near the action?
The first half was that clever blend of power from Josh Strauss and Jonny Gray, plus Stuart Hogg's pace and Nakarawa's telescopic offloads. Add in hooker Hall's precision and you get the picture. It was one-way traffic.
When the third try came, with a completely unattended Henry Pyrgos the willing recipient after a great break from Hogg, it was Glasgow's tempo, their offloads, and their organisation that were too much for Munster.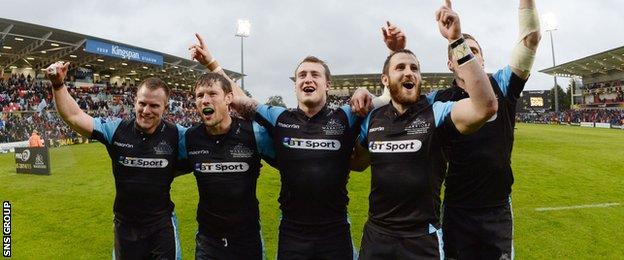 It was extraordinary first half, with Glasgow 21-10 in front.
The question as to whether the Warriors would reduce their tempo by kicking for territory entered my mind as the second 40 minutes started. After all, the wind was in their favour. As was the driving rain.
Again, scrum time was a lottery and the authorities have to look at mauls and their inherent boredom, and the way referees have the wool pulled over their eyes.
The beauty of this Glasgow Warriors team? Patience...
Just as in last week's tense semi-final win over Ulster, the dogged pick-and-go from the tight forwards when within sniffing distance of the Munster line was followed by speed of thought for Finn Russell's try.
I don't want to beat around the bush. My generation didn't win things like this. The current Glasgow team is the best one ever.
It has young players such as Richie Vernon and Peter Horne, who were thrust into a midfield that had lost Alex Dunbar and Mark Bennett through injury. Gordon Reid has gone from Ayr prop to fearsome, top-level opponent.
We have seen world-class players such as Niko Matawalu grace what was once a desperate old running track in Scotstoun but is now a thriving rugby hotbed.
A Hawick man, Hogg, is as good as anyone around, and as big Al kept saying, there have been 52 players used by Glasgow this year.
I'm happy. I hope this translates into Scottish rugby success. My guess is that a fair bit of this is down to Townsend who seems that rare combination of decent bloke and winning coach.
I belong to Glasgow and I'm a proud man...