Dylan Hartley 'should not be isolated', says Tim Rodber
Last updated on .From the section Rugby Union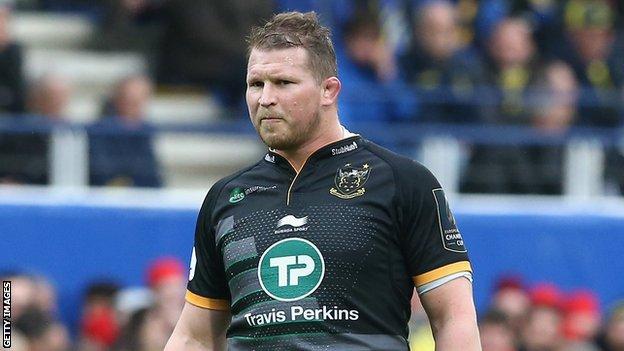 England are wrong to drop Northampton hooker Dylan Hartley from their World Cup training squad, says ex-Northampton and England forward Tim Rodber.
Hartley, 29, was banned for four weeks on Wednesday for headbutting Jamie George in Saints' Premiership semi-final loss to Saracens on 23 May.
"Unfortunately he's put himself in this position," said Rodber, who spent more than 10 years as a Northampton player.
"But let's embrace him, rather than ban and isolate him."
The four-week suspension would have ruled Hartley out of England's opening World Cup game against Fiji on 18 September.
England head coach Stuart Lancaster warned Hartley about his conduct last December.
In announcing the decision on Friday, Lancaster said Hartley had "let himself and everyone down" and added that he needed all of his players "to be able to control their discipline and make good decisions under pressure".
Hartley said he was "devastated with what has happened" but accepted his omission.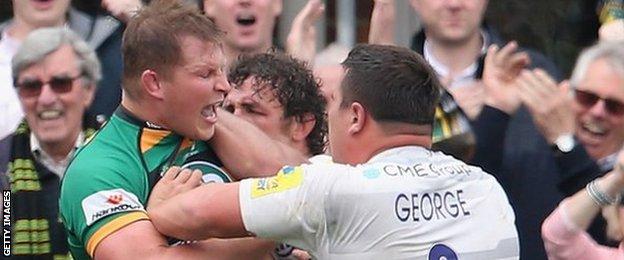 Rodber, who played 44 times for England and twice for the British and Irish Lions, hopes the decision to drop Hartley for his latest indiscretion will not affect the mindset of England's forwards ahead of a home World Cup.
"When you are playing as a forward in the front row at international level, I am afraid you play on the edge," the 45-year-old told BBC Radio Northampton.
"There are many players that I played with that would have appeared whiter than white but I can assure they were not.
"What will happen now is that all of the England forwards, in the back of their minds, they will question how close to the edge they go.
"Unfortunately, in a game at the top end of sport, it is inches [that decide matches] and you need those forwards playing in a tough, aggressive way without going over the line."
Speaking earlier this week, before Hartley's England omission had been announced, Northampton chairman Tony Hewitt said the hooker had become a "marked man".
Hartley's latest ban is the sixth of his career, with his suspensions adding up to a total of 54 weeks.
"It's very difficult for Dylan now, he's a marked man and everybody picks on him with incidents he is involved with," Hewitt told BBC Radio Northampton.
"The margins are fine in these incidents in highly charged games.
"I think if the incident had involved another player who had not been involved in any disciplinary action before, it might have been overlooked or it might have been a yellow card."