Max Bodilly: Exeter full-back expects more dual-registration
Last updated on .From the section Rugby Union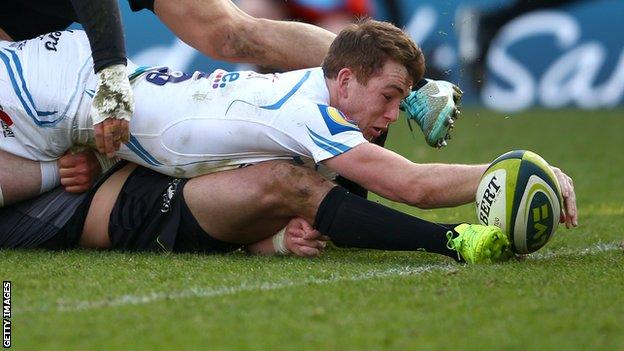 Exeter's Max Bodilly expects another spell on dual-registration next season.
The 20-year-old has spent time with Championship club Cornish Pirates in the last two seasons, but has also broken into the Exeter first team.
Bodilly scored two tries in Exeter's and made his
"I would imagine I'll be dual-registered, but hopefully if I can push myself up again, I'll be up at Exeter more often than not," he said.
The Newlyn-born full-back made 15 starts for the Pirates last season, scoring three tries, and nine appearances the season before.

"The Pirates have been a great club for Exeter Chiefs for the dual registration," Bodilly told BBC Radio Cornwall.
"It shows that the guys go down there and come back and fit right into the Exeter mould.
"The time down at Pirates is very valuable to players because ultimately it's regular game-time for them, which is what we need when we're young."
Bodilly will be setting personal goals for the 2015-16 season when he returns to Sandy Park following the summer break.
"When I get into pre-season I'll probably sit down with the coaches and set myself a few targets of where we both agree where I should be and where I should be looking to get to," he said.
"I just want to kick on as much as possible now, I've had a good year so it's just a stepping stone really and it's something to build on."