Dean Ryan: Championship play-offs 'don't help anybody'
By Chris Jones
BBC Radio 5 live
Last updated on .From the section Rugby Union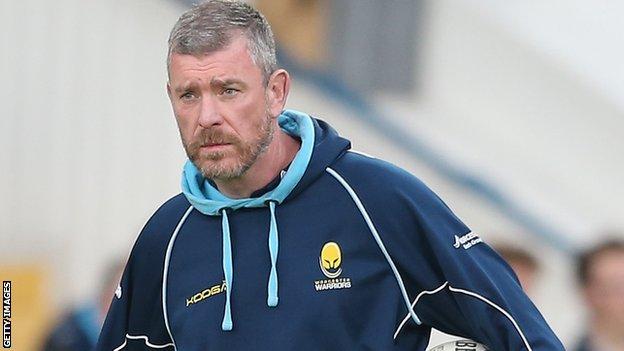 Worcester boss Dean Ryan says the promotion system needs changing, despite winning the Championship play-off final to return to the Premiership.
The two-legged final followed a pair of two-legged semis and, when asked whether it is the right system, Ryan replied: "No it's not.
"There isn't a simple answer, there are a lot of things to be considered."
He added: "But the current system doesn't help anybody."
The structure of English rugby is likely to change in some form in the near future, especially if plans to expand and ring-fence the Premiership in time for the 2016-2017 season are approved.
"I've never been asked to sit around a table with the people who seem to be making the decisions, and I'm sure [Bristol boss] Andy Robinson hasn't either," Ryan told BBC Radio 5 live.
"We are probably two of the most experienced coaches in the Championship. But people seem to be making decisions based on other agendas, so we just have to live with it."
Bristol's play-off woes
Bristol topped the Championship table in 2010, 2012, 2014 and 2015, but have failed to win promotion through the play-offs on each occasion
Ryan had sympathy for Bristol and his opposite number Robinson, as the West Country club face a seventh consecutive season in the second tier after failing at the play-off stage for a fourth time.
"Worcester and Bristol are two good rugby clubs," said Ryan. "Two clubs who invest an awful lot in infrastructure, and nothing about the Championship gives those clubs anything.
"It's all about independent people, whether it's Andy or myself or the backers behind.
"It's our opportunity to get out of that league, but it's not the system that throws those clubs up, it's those clubs grasping things and trying to do it right."
During Worcester's struggles in the Premiership last season, Ryan spoke regularly of "rebuilding" the club, but he insists the project is in its infancy despite the success of promotion.
"Everybody needs to stop this myth that there is some magic eight-month formula. It takes years. We are just starting."