Dylan Hartley could cost England at World Cup says Matt Dawson
Last updated on .From the section English Rugby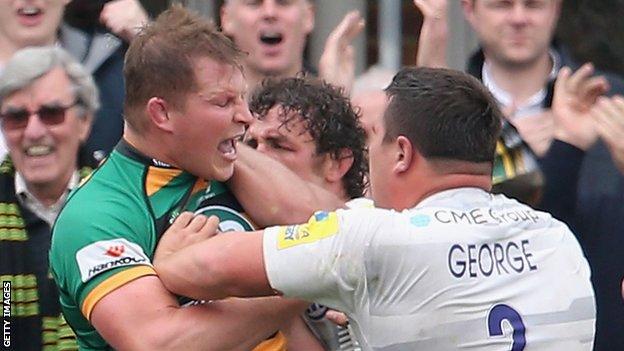 Dylan Hartley's indiscipline could cost England at this year's World Cup, fears former scrum-half Matt Dawson.
The Northampton hooker, 29, faces a disciplinary panel on Wednesday after being charged with head-butting Saracens' Jamie George in Saturday's Premiership semi-final.
Hartley could miss some or all of England's three World Cup warm-up games if found guilty of the offence.
"He could let them down big style," Dawson told BBC Radio 5 live.
"Off the field Dylan is a great lad - in the community, with the team - but on the field he has got something missing. He has got a switch that goes.
"When you are playing in heated World Cup matches - and England have two of them in their group against Australia and Wales - you are playing against players who know how to flick that switch."
The hooker has been warned by England coach Stuart Lancaster over his discipline.
The entry point for the alleged head-butting offence is a four-week punishment and disciplinary regulations state any ban must include matches.
That would mean Hartley, who has been banned five times in his career, would be sidelined for England's three fixtures in the lead-up to the World Cup.
Lancaster's side face France at Twickenham on 15 August, a week before meeting the same opposition in Paris. They conclude their World Cup preparations against Ireland at Twickenham on 5 September.
England open their home World Cup against Fiji on 18 September.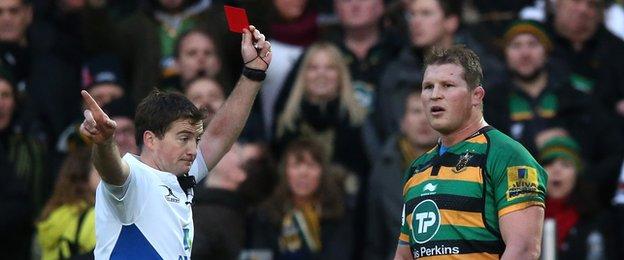 Hartley has missed 50 weeks of his career through suspensions for offences ranging from gouging and biting to abusing a referee.
Hartley missed the 2013 British and Irish Lions tour of Australia after he was banned for 11 weeks for being sent off during the Premiership final.
The Northampton captain was shown a red card for swearing at referee Wayne Barnes and calling him a "cheat".
Dawson, a World Cup winner in 2003, added on his 5 live Rugby Show: "There are these trigger moments - whether it is that frustration in the Premiership final or amid the passion and noise of a Premiership semi-final [against Saracens last Saturday]. He hasn't got it to hold that within himself.
"That is what really worries me. He got that rush of blood horribly wrong by putting his head in. His way of dealing with those scenarios could prove costly."
Former England hooker Brian Moore agreed: "Why wouldn't the opposition [try to wind him up]? You have to be physical and aggressive, hooker is that sort of position. People say 'if you take that out of him, he would be a different player'. I'd say 'yes he would be - a better player'."
Moore added: "You could easily see them coming down hard on him. The entry point is four weeks, the end point is 12 weeks. So when you consider the antecedents, if they make the decision that he is guilty, he will get a reasonably long ban."
Listen to a full discussion on Dylan Hartley's latest indiscretion, plus a preview of Saturday's Aviva Premiership and Pro 12 finals, on Matt Dawson's Rugby Show.