Worcester Warriors: Schoolboy Jamie Shillcock to take part in final
Last updated on .From the section Rugby Union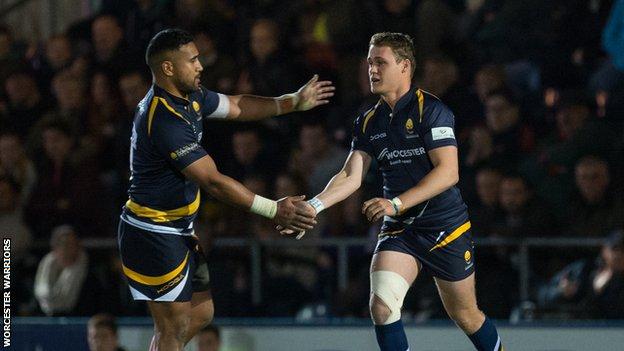 Worcester director of rugby Dean Ryan has faith in schoolboy scrum-half Jamie Shillcock, should he need to deploy him off the bench against Bristol in their two-leg Championship play-off final.
Bur Ryan insists: "He's going to be part of this club for a long time. He's a credit to his family and his school.
"This can kick-start his career off. He'll be better for the experience."
Warriors are without their two senior scrum-halves for both legs of the Championship play-off final against Bristol, the first leg of which has been set for Ashton Gate on Wednesday week (20 May).
Both were ruled out as a result of incidents which happened in the first leg of the semi-final against Scottish, which the Warriors won 27-22.
Championship play-off semi-final dates
Following their 56-36 aggregate triumph over Rotherham, Bristol, mindful of losing 27-8 in the first leg at London Welsh a year ago, have opted to play this year's home leg of the final first, on Wednesday 20 May (19:45 BST).
The second leg is set for Sixways on Wednesday 27 May (19:45 BST).
Charlie Mulchrone went off injured, having gone over on his ankle, after which Jonny Arr then picked up a yellow card for a tip tackle that ultimately resulted in a three-week ban.
Ryan turned to Welshman JB Bruzulier on Friday night, as well as picking Shillcock to sit on the bench, in case of emergencies.
But, such was the Warriors' dominance, it allowed Ryan the chance to offer the boy from Warwick School a late run-out.
"The lad's been great all week and I just wanted to get him out there," added Ryan. "Let him just enjoy himself as the next few weeks are going to be pretty high profile for him.
"I'd have preferred it if Jonny Arr was there or Charlie Mulchrone. But this is about examining the club and its depth. We're preparing him to play for this club at this level in the future."
Despite having ruled out Mulchrone of the two Bristol matches, Worcester, who lost replacement full-back Ben Howard early on with concussion, are positive about two more of their injured players.
Centre Max Stelling is confident of being fit to play a part in the two Bristol games following a strained hamstring and England full-back Chris Pennell is even closer to a return, having missed two matches with a knee injury.
"Not playing next week gives us a bit of breathing space," said Ryan. "But we need Pens. We haven't got anyone else to play."