Guernsey's St Jacques target Hampshire league
Last updated on .From the section Rugby Union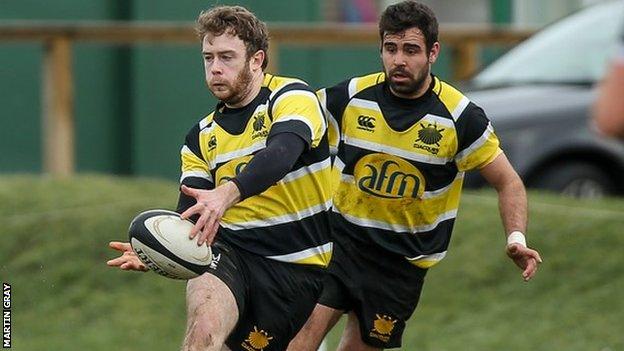 Guernsey's St Jacques Rugby Club are hoping to move into the national league structure after winning the Solent Merit League.
The club have won all 16 of their games in their debut season in the UK.
"There are options to go into Hampshire Two," said captain Brett Macfarlane.
"That would be in the English rugby ladder so there'd be promotion and demotion and more options available to us if we want to progress as a club," he added to told BBC Radio Guernsey.
St Jacques are one of just two rugby clubs on the island, with Guernsey RFC playing in the fifth tier of English club rugby.
They had previously played in the Jersey league before leaving to join the Solent Merit League at the start of this season.
If they were to join Hampshire Two they would be playing in the 10th tier of English club rugby.
"We could start competing to increase our status in national rugby, especially in the Hampshire League," added McFarlane.
"Nothing's set in stone, there's still quite a few discussions ongoing.
"But we're optimistic that next season there'll be some movement towards us being out of the Solent Merit League and into something a bit more professional."