Tom Johnson: Exeter flanker retains England ambitions
By Brent Pilnick
BBC Sport
Last updated on .From the section Rugby Union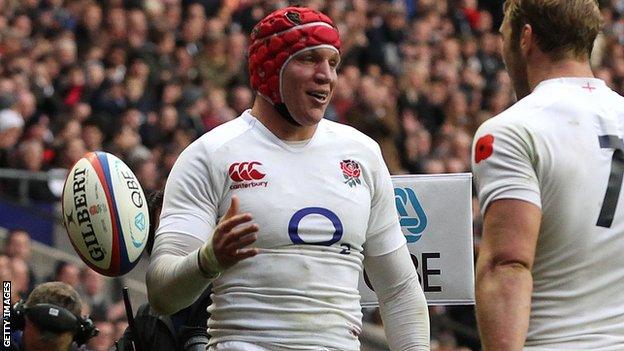 Exeter Chiefs flanker Tom Johnson says he would give up the sport if he did not believe he could force his way back into the England squad.
The 32-year-old, who has eight caps, has not played for his country since their tour of New Zealand last summer.
Johnson only made his return from at the start of the month having missed all of this season.
"Obviously you still back yourself - otherwise I would have hung up the boots," Johnson told BBC Sport.
Tom Johnson
Is Exeter's longest-serving player, having made his debut in September 2007
Was Exeter's first full England international since Martin Underwood in 1964
Made his England Test debut against South Africa in Durban in June 2012
"I do feel if I got some decent game time under my belt and I was performing in a manner that warranted my selection, then of course I'd back myself," he added.
Johnson became the first Exeter player to appear for England since they were promoted to the Premiership in 2010 when he went on their tour of South Africa in 2012.
However, he has been sidelined by a neck problem since the summer, which affected his nerves and caused numbness.
"It wasn't a case of 'let's play on until the end of the season'. It's a case of wanting to be able to hold my daughter in a few years' time and play with her, swim with her and do those kind of things," said Johnson.
"The club put my health first, which was very good of them. I'm not here just to free-ride along, and if I don't feel like I contribute, I'll be out the door before anyone tells me to."