England v Australia: England's midfield minefield

By Tom Fordyce
Chief sports writer
Last updated on .From the section Rugby Union242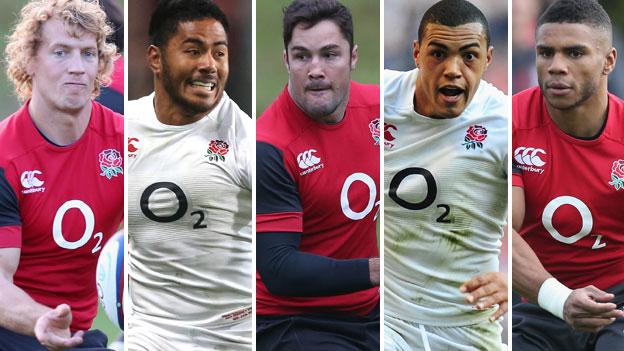 Centres of excellence may have been pivotal in the successes of much British sport in the past decade - in cycling, in athletics, in rowing.
The same cannot be said of the England rugby team. For all the individual skills of those selected in the 12 and 13 shirts since the 2003 World Cup win, this has been less about productive partnerships and more a midfield minefield.
Since that triumph in Sydney in late 2003, England have tried 43 different combinations at centre. And as they prepare for the 2015 tournament, the churn appears to be accelerating: five different partnerships in six Tests, three different pairings at fly-half and inside centre in three.
This weekend against Australia it is Billy Twelvetrees' turn to be recalled at 12, Brad Barritt outside him.
It is a pairing with promise. It is also one that few England fans would bet on being in place when the World Cup begins next September.
England's centres were once the unshakeable backbone of their XV: Will Carling and Jeremy Guscott in harness 43 times, Will Greenwood and Mike Tindall the brain and brawn in Sir Clive Woodward's World Cup winning side.
The list since then reads like a litany of lost promise and injury, young talent tossed away and steady stagers unable to step up.
There are those stalwarts all will remember - Jamie Noon, Rikki Flutey, Toby Flood. There are those who bring back memories of brief experiments under Andy Robinson - Anthony Allen, Stuart Abbott, Henry Paul - and then the short-term solutions of Martin Johnson: Shane Geraghty, Dan Hipkiss, Matt Banahan and Shontayne Hape.
There are the great what ifs - Mathew Tait and James Simpson-Daniel - and there is the name that would serve you best as a contestant on BBC TV show Pointless, Ayoola Erinle.
What there isn't is consistency. Tindall had 12 different centre partners after 2003. With just nine games to go until the World Cup kicks off, current coach Stuart Lancaster appears afflicted by the same indecisiveness.
Design or dithering? Hard luck with injuries or poor selection in the first place?
"The way it's going at the moment is because we virtually started again two years ago," says Lancaster's assistant Andy Farrell, as a player one of the inside centres given a handful of games, but no more, in the last decade.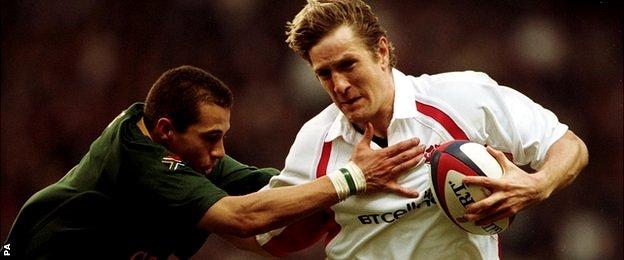 "You start off with one or two combinations, and then you try a different way of playing with a different full-back, and it changes the balance.
"We had Alex Goode at full-back as a ball-playing 15, who could step in as an alternative fly-half. Then Mike Brown went to full-back and was outstanding, and that changed how we worked things.
"Where we've been over the two years, we've had players come onto the international scene, like Twelvetrees, playing quite a few games with Manu Tuilagi, and then Manu's injured so Luther Burrell comes on the scene.
"We've got to see if that can flourish in training and match situations. All of a sudden Kyle Eastmond plays well for Bath at the end of last season and is on fire at the start of this one.
"So it's less an element of chopping and changing as such, it's more trying to find out at such a young stage of the team's development.
"Ideally you'd like to get to a place where you could say, this is the group, off you go, but it's hard when you're a young side."
It is hard too for those who are picked to remember who is alongside them. Tuilagi has had seven different partners for England, Barritt and Twelvetrees four. Even Eastmond, in just five starts for the national side, has had three.
Injuries have played a part in that. Players too have to bear responsibility; Tuilagi and Burrell apart, few have made a consistent and unarguable case for inclusion.
Centres of retention: Who's played most since 03?

Starting pair

Played

Won

Lost

Win %

Barritt & Tuilagi

11

6

5

55

Hape & Tindall

10

6

4

60

Tindall & Noon

7

3

4

43

Twelvetrees & Burrell

6

4

2

67

Catt & Tait

5

2

3

40

Flutey & Noon

5

2

3

40

Flutey & Tindall

5

2

3

40
But whereas Welsh supporters know their long-term first-choice pairing is Jamie Roberts and Jonathan Davies, and Ireland could until the latter's retirement pick Gordon D'Arcy and Brian O'Driscoll in their sleep, England are still searching for their ideal blend.
Do they want a kicking inside centre, like Twelvetrees, or a dashing stepper like Eastmond? Should the man outside him be a defensive rock, like Barritt, or a battering-ram like Tuilagi? Could Tuilagi and Burrell, both direct runners, play together without the team missing the silkier, more subtle skills of a traditional passing 12?
"The logical feeling in rugby now is, get your best players out there," says Farrell. "And that means your best players at centre might be much of a muchness.
"You'd like them to have some speed, you'd like them to have a voice so they can organise, but what you'd hope is that the 10, 12, 13 and 15 would complement each other.
"It ain't just about that centre partnership. Because how does that partnership work? It works from first phase in attack and defence, and that's about it.
"It's how they gel with the rest of the team that is the bigger picture. And that has to come from what your best players have got."
It is certainly true that the great centre pairings were blessed with rich talent around them. Wales's princes Steve Fenwick and Ray Gravell could look inside to see Phil Bennett and Gareth Edwards.
Tim Horan and Jason Little were one part of a Wallabies back line that also featured Nick Farr-Jones, Michael Lynagh and David Campese. The All Blacks' brilliant Walter Little and Frank Bunce were fed and supported by Andrew Mehrtens, Jonah Lomu and Jeff Wilson.
"We will progress, because everyone's had their fair share training time and game time," insists Farrell.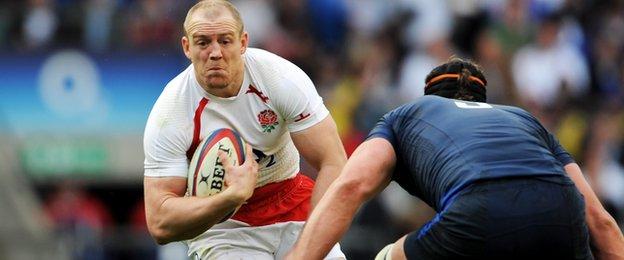 "There's quite a lot of our players in the infancy of centre play in the Premiership, never mind the international game. So you have to go with it, to make it flourish together."
Not all are convinced. "England's back-line selections for the autumn internationals have been bizarre," said Jason Robinson, World Cup winning full-back and occasional partner of Greenwood at centre afterwards. "I haven't got a clue what they are trying to achieve."
Neither is there consistency further out. Lancaster has selected 13 different starting wings since the start of his reign, and 12 wing combinations in 33 matches.
He has certainly given players a chance. Whether he has given them long enough, in the right environment, is more debatable.
Eastmond was given an opportunity only against the best two sides in the world, New Zealand and South Africa. He was playing outside a fly-half in Owen Farrell who was short of form and confidence. When his Bath club-mate George Ford came in at 10, a much more natural fit for his running game, he was out of the squad.
Eastmond has been criticised for lacking a kicking game. But he has never had a kicking game. There is talent out there. Is it being harnessed as it should?
"Kyle is new to the game, and new to the position," says Farrell. "It wasn't easy for him - those games were raining, the opposition were on the front foot.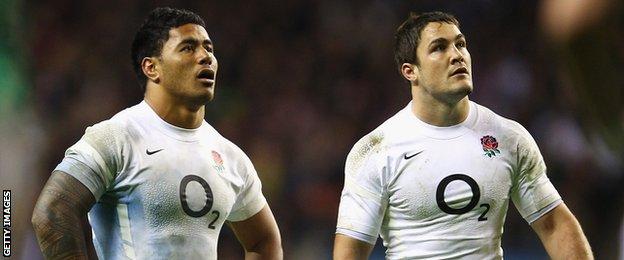 "He found his feet at Bath last year, and he's even closer to finding his feet, and his voice, this year. Transferring that to another group is another challenge in itself. But it is something he will flourish with and learn as he goes.
"We give all our players work-ons. For Billy, it was about being accurate with his decisions, and accurate with the execution of whatever it is we want to do.
"Improving his communication skills, not just to the ball-player but to the forwards around him, so that things are done properly rather than going through the motions. That's what a second receiver - be it a full-back, a 13 or an inside centre - has to do.
"The main thing that needs to be said is that the player has to be able to be himself. So you don't try to make them something they're not. Whatever X-factor they have, make sure that they bring that to the party.
"Manu is a go-forward destructive, break the line sort of player, Brad is a go forward man and unbelievably strong at the breakdown. Within that they have to be able to organise, they have to be able to ball play, they have to be able to unlock defences.
"But first of all they have to get their X-factor out there and make a difference. Because ultimately centres are all about making things happen - whether it's making things happen for other people or themselves.
"And it's not just about the centres. The partnership is one of many. We talk about Greenwood and Tindall - well, that combination is useless without them being on the same page as Dawson, Wilkinson and Robinson.
"That's what that group had - a settled team that grew together for six or seven years. Us? We're at the start."