Scotland recovery will face tough Six Nations examination

By Tom English
BBC Scotland
Last updated on .From the section Scottish Rugby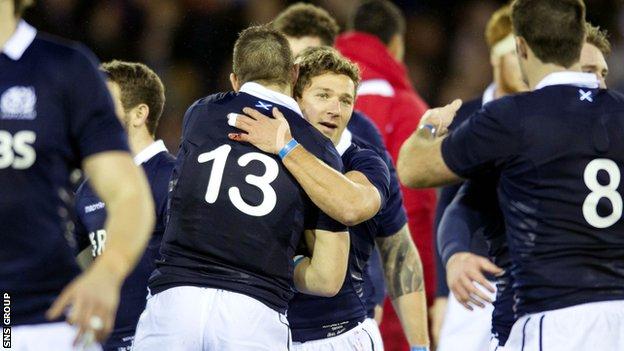 Given the attrition on display, it might seem strange to describe the autumn internationals as peace-time rugby. But in comparison to the battles ahead in the Six Nations, that's pretty much what they are.
Nobody should make a hard and fast judgement on a team's worth based solely on the past few weeks.
Ireland, for instance, are favourites for the title not just because they have just beaten South Africa and Australia and have risen to third in the world rankings. They're favourites because their terrific autumn was a continuation of where they left off last season.
The Irish are building all the time, the most extraordinary aspect of their improvement being the fact that they haven't missed a beat in the post-Brian O'Driscoll age. They also played their three November Tests without two of their most heavy-duty ball-carriers, the injured pair of Cian Healy and Sean O'Brien.
Joe Schmidt, surely the finest coach in world rugby, has managed to fill the gaps while improving his team all the time.
That's a serious feat from a serious bunch of individuals, led magnificently by Paul O'Connell, but not only by the captain. Ireland have no shortage of agenda-setting leaders.
What a monumental Six Nations we have in store.
One of Schmidt's biggest buddies in the game is Vern Cotter and there is about as much chance of the Scotland head coach reading too much into autumn improvements as there is of hell freezing over. Many don't believe in hell, of course. But everybody believes in Cotter.
There is a reason why the New Zealander hasn't overdone the paeans to his team in the wake of these games. For all the advances, he knows there is a mountain of work to be done before the most meaningful stuff in the Six Nations and, later, the World Cup.

Cotter knows his history. In the recent past, Scotland have pulled off big November wins against Australia and South Africa and yet they amounted to nothing in the big picture. As soon as the Six Nations swung around, those victories were rendered meaningless. One-off pockets of joy amid a world of failure.
Cotter's team have just had three pleasing performances in succession and are, unquestionably, heading in the right direction.
Scotland are playing with ambition. They're scoring tries at the kind of rate we haven't seen in years. Some of the weaknesses of old have been turned into strengths - line-out, attacking threat, composure, execution.
They have passed all the tests so far. Could they live up to their pre-November mantra of playing with more freedom? Yes, they did it from the get-go against Argentina and scored five tries.
Could they be competitive against New Zealand for the first time in an age? Yes, they had a kick to go ahead with 11 minutes left on the clock, a different planet compared to what went before against the All Blacks.

Could they dig themselves out of a hole after an indifferent first 40 minutes against Tonga? Yes, again. They scored 23 unanswered points in the second half at Rugby Park.
New players have emerged. Older players have been reborn and that has contributed to the air of optimism.
November is a mere warm-up act, though. Tournament play is where it's at and in little over two months Scotland will begin the Six Nations against France, who they have lost to eight times in a row, in Paris, where they haven't won in 15 years.
A week later they host Wales, who have beaten them seven times in succession or, to put it another way, Wales have won 11 of the last 12 meetings.
The Six Nations, as we know, is all about momentum. If you get it in week one and, or, week two then you have a chance of doing something. If you fail to get it early then you normally don't get it at all. Scotland need no reminding of that.
In week three, Scotland play Italy at Murrayfield. That's a win that the home crowd will be banking on, although Italy have just had a competitive autumn themselves, beating Samoa, losing by two points to Argentina and then keeping South Africa to 15-6 until Bryan Habana scored a last-minute try.
After that, Scotland travel to Twickenham. It's bad enough that Scotland have lost their last five matches against England - the last two being something of a humiliation - but they haven't won away in more than three decades. Fifteen Test matches - 14 losses and one draw.
And to finish, it's Ireland in Edinburgh. If things go to form, Ireland might be going for the championship.
They might have Healy and O'Brien back in the fold. They have a squad that is so deep in all positions - bar tighthead - that it's no wonder there is a buzz about their prospects not just in the Six Nations but in the World Cup, a tournament they have singularly failed to make an impression on.

Cotter is a pragmatist. He knows the scale of the challenge ahead. He knows that though his own side have improved, so, too, have others.
Ireland have been immense. England haven't taken down one of the big southern hemisphere giants this autumn - they have a final attempt against Australia next Saturday - but they'll be formidable regardless of the usual navel-gazing that's going on at the moment.
Wales haven't ended their southern hemisphere jinx - one more chance against South Africa this coming weekend - but you always think they're capable of it. They have a starting team that looks certain to crack it soon.
France have been their typically flaky selves, suggesting one week that they had turned the corner in victory over Australia before crashing into a wall against Argentina the week after. Brilliant or brutal - the French are forever beguiling.
Cotter lives in the real world where Scotland could lose four or five games in the Six Nations or, alternatively, they could win two or three. The margins between those two scenarios are pretty fine.
The encouraging thing is that Scotland have suggested that they are relevant again. For now, before the true testing ground of the Six Nations, let's call it a soft recovery from a team that are developing an impressively clinical edge.