Wales v New Zealand: The task facing Gatland's men

By Ross Harries
Scrum V presenter
Last updated on .From the section Welsh Rugby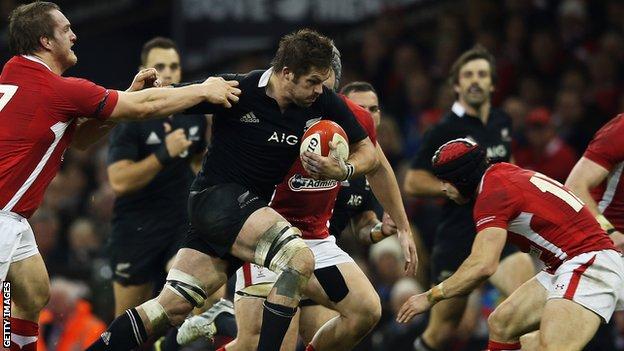 Autumn internationals: Wales v New Zealand
Venue:
Millennium Stadium
Date:
Sat 22 November
Kick-off:
17:30 GMT
Coverage:
Watch live on BBC Two, BBC Two HD, online, mobiles and BBC Sport app from 16:55 GMT; commentary on BBC Radio 5 live, BBC Radio Wales & Radio Cymru; text commentary on BBC Sport website & mobiles
With language, context is everything. Mention New Zealand in a conversation about global politics and you conjure images of a small insignificant island nation at the bottom of the earth.
A small population, a rural economy, and an agreeable climate … in the summer at least.
But mention New Zealand in a conversation about rugby, and you conjure images of fear and dread. Of irresistible force, power and domination. A marauding black army capable of obliterating anything or anyone that stands in its way.
David in the political sense is Goliath in the rugby one. And nowhere was that more evident than their recent game against the USA in Chicago.
In a country where sports marketing is a billion-dollar industry, the US commentators referred to the All Blacks as one of the world's biggest sporting brands. In the sporting arena, they reduced the world's biggest superpower to a hapless minnow.
Wales is all too aware of the galvanising power of sport. On the surface it has much in common with New Zealand. A similar sized population, a similar reliance on tourism and agriculture to feed its economy, and a near-religious obsession with rugby.
Like New Zealand, this obsession has led to periods of glory and success, and the beating of bigger, more powerful nations contributes strongly to Wales' sense of nationhood.
But where they differ is in levels of success.
Wales has had its fair share - but it's been fleeting and transitory. A period of glory is often followed by a longer one of catastrophe and navel gazing.
New Zealand (if we can ignore their World Cup failures) deal only in relentless, consistent success. Winning handsomely, winning ugly, winning in the dying seconds, winning with a reserve team. But almost always winning.
Working at the BBC, it seems faintly absurd that when we preview a game against New Zealand, we have to walk into the sports archive, blow a metaphorical layer of dust off a 60-year-old tape, and restore some grainy, black-and-white footage of the last time Wales beat New Zealand.
That was in 1953 - the year of the coronation of Queen Elizabeth II. Her reign is as long as that of the All Blacks over Wales - a period that has seen 13 British prime ministers come and go.
The weight of history lies more heavily on this fixture than most others. It's one of the longest winning sequences between tier-one nations in Test rugby history. A 61-year, 25-match losing streak makes the six-year, 10-match one against Australia appear a mere blip.
Last six Wales v New Zealand meetings
24 November 2012: Wales 10-33 New Zealand - Millennium Stadium
27 November 2010: Wales 25-37 New Zealand - Millennium Stadium
26 June 2010: New Zealand 29-10 Wales - Waikato Stadium
19 June 2010: New Zealand 42-9 Wales - Carisbrook
7 November 2009: Wales 12-19 New Zealand - Millennium Stadium
22 November 2008: Wales 9-29 New Zealand - Millennium Stadium
So, how and when can it be broken? Does the law of probability apply here?
I hope it does not appear desperate to invoke the infinite monkey theorem here, but bear with me. It hypothesises that, given enough time, a chimpanzee, typing at random, would eventually produce one of William Shakespeare's plays.
If you accept the logic behind this, then if 15 men in red continue to play rugby against 15 men in black, on an almost annual basis, eventually they will win.
Wales coach Warren Gatland framed it in slightly more pragmatic terms at his press conference this week.
He noticed that the longer the Scotland-All Blacks game went on last Saturday, the more Scotland looked as though they believed they could win.
They were after all, just playing against 15 blokes in different coloured shirts. Take away the history, the ceremony, the sense of theatre, the pride, the passion, the crowd, and the noise, and that is all you are left with.
Context is everything. Or nothing at all.