Rugby World Cup 2015: Ticket fraud fears grow as ballot opens

Last updated on .From the section Rugby Union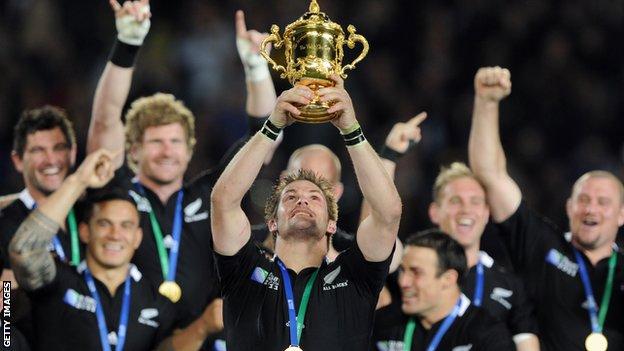 The woman in charge of organising the 2015 Rugby World Cup has voiced her fears about fraud on the day the public ballot for tickets opened.
Fans can apply for tickets on the event's website until 29 September, with almost one million up for grabs.
But with a total of 2.3m tickets issued for the whole tournament, and no ban on touts, many fear flagrant profiteers will seek to cash in on intense demand.
"I already know of websites selling tickets they simply don't have," said England Rugby 2015 chief executive Debbie Jevans.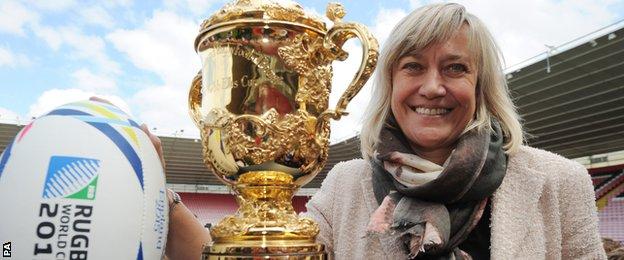 "It's fraudulent behaviour. A ticket to a sporting contest is not a commodity.
"That is what they become when touts get involved, buying up tickets and trading them for profit."
The face value of adult tickets for the tournament - which starts with England versus Fiji at Twickenham on 18 September, 2015 - ranges from £15-£715, with seats for under-16s at some games available from £7.
Jevans, a former tennis professional who had a key role in the success of the London 2012 Olympics as director of sport, failed to persuade the government to bring in a law that would have banned ticket touting ahead of the World Cup.
Hot tickets at the 2015 Rugby World Cup

Date

Match

Pool

Venue

18 September

England v Fiji

A

Twickenham

26 September

England v Wales

A

Twickenham

3 October

S Africa v Scotland

B

St James' Park

3 October

England v Australia

A

Twickenham

10 October

Australia v Wales

A

Twickenham

11 October

France v Ireland

D

Millennium Stadium
And with the International Rugby Board not making such legislation a precondition of hosting the tournament, unlike the International Olympic Committee's stance on the Olympic Games, rugby union's premier event has always been vulnerable to touts.
Jevans says she "respects" the government's decision to not bring in new rules, and is confident in the anti-touting measures her team has introduced.
For example, tickets for the most popular games will be allocated by ballot, with a limit on the number of tickets any one person can purchase.
The tickets will not be distributed until next summer, and an official 'secondary market' site will redistribute unwanted tickets at face value.
But the size of Jevans' task can be seen by making a simple internet search: already there are sites selling tickets for the England-Fiji game for £850, more than 11 times face value, and there are seats available for the final on 31 October for £8,850.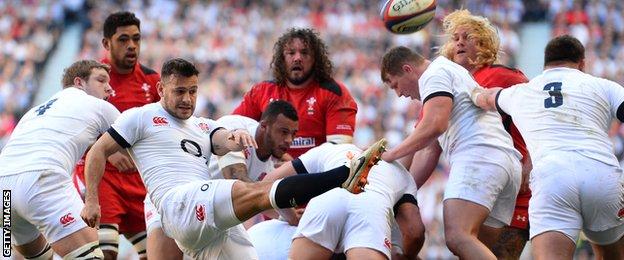 This situation is inevitable when half of the tickets for the 48-game tournament are handed over to the national federations of the 20 qualifying teams, sponsors, hospitality companies and VIPs. On top of that, 300,000 tickets have already been sold this summer via member clubs of the Rugby Football Union.
Jevans' real fear is fans might be conned if they try to buy tickets from unofficial sources, pointing to the example of Olympic swimmer Rebecca Adlington, whose parents thought they had bought tickets for Beijing 2008 only to discover they did not exist.
On the issue of cost, the 54-year-old was bullish that her team had priced the tournament fairly, with a million tickets available for less than £100. This "compares very well" with previous World Cups and other leading sporting events, she said.
One such event that her team looked at closely was last year's Rugby League World Cup, which was also delivered by a female boss, Sally Bolton.
"I liked a lot of the innovations at the Rugby League World Cup, and we seconded staff to their team so we could learn lessons," said Jevans.
"For example, I loved their idea to turn Rochdale into Fiji for a day around one of the games. That's the kind of thing we would like to do with teams like Tonga, Samoa, Japan and USA."