New Welsh agreement has player backing, says Sam Warburton
Last updated on .From the section Rugby Union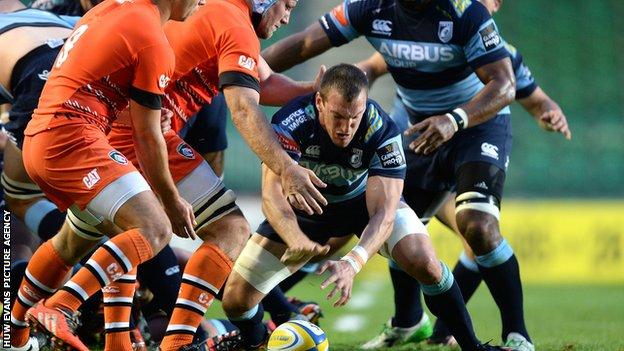 Wales captain Sam Warburton says the players he has spoken to are happy with the new deal between the regions and the Welsh Rugby Union (WRU).
The six-year Rugby Services Agreement, signed on Thursday, ended 18 months of conflict between the two camps.
Warburton had been left in limbo after signing a central contract but is now cleared to play and took the field in Blues' friendly loss at Leicester.
"I'm sure it will be beneficial across the whole of Welsh rugby," he said.
"It's a very popular idea amongst some of the players having had conversations with the guys.
"We want four strong regions who can then supply a strong national team.
"Who they put on dual contracts is obviously out of my control... but it's very positive news for Welsh rugby.
Blues had been unable to play Warburton while the regions were in dispute with the WRU because of a legally-binding agreement.
But Warburton said he always had faith that the two sides would settle their differences and says his situation has had little affect on his preparations for the new season.
"It's not really a relief to be honest, nothing's actually changed," Warburton said.
"I had about four or five weeks off, came back into pre-season day one with all the Blues boys... trained fully for three months.
"Against Exeter I was always expected to stay on the sideline as they wanted me to get an extra couple of weeks of fitness in and make sure the shoulder was good as gold.
"The first game back was Leicester, I've managed to play that and everything's worked out great.
"I don't know whether people call me naive but I just couldn't see it ending up any other way."
Warburton played 50 minutes in Friday night's pre-season 17-21 loss at Leicester and said he was delighted to be back in action after his long-term shoulder injury.
"It's been pretty much five months on the bounce and just delighted to be back out playing," he added.
"I felt like a dog off the leash before the game in the dressing room, I was really pumped up and couldn't wait to get out there and make some tackles.
"[Blues director of rugby] Mark Hammett told me earlier in the week he wanted me to play 50 minutes which was good, as you can go hard for 40, have a bit of a break and you've got 10 minutes then to empty the tank before you come off."