Dragons chief Gareth Davies wants WRU board role
Last updated on .From the section Rugby Union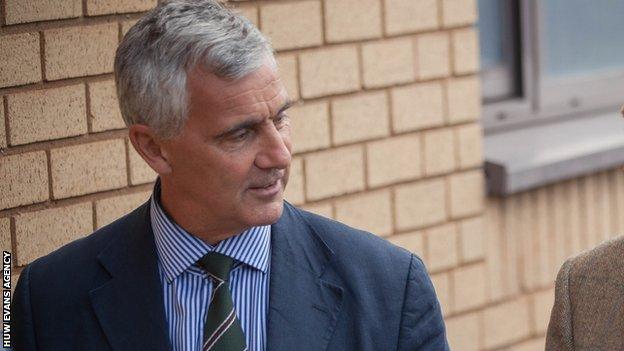 Newport Gwent Dragons chief Gareth Davies is seeking election to the board of the Welsh Rugby Union (WRU).
WRU chairman David Pickering hopes to retain his place on the board. He and Davies are among five bidding for two available national director places.
Ex-Wales and Llanelli prop Anthony Buchanan, Newton's Dai Davies and Cefneithin's Dennis Jones are the others.
Davies' bid comes as the WRU's dispute with the nation's regions continues.
Pickering's most recent three-year term is drawing to a close and another spot has been vacated by Wales and British and Irish Lions wing legend Gerald Davies.
Former Neath, Llanelli and Wales flanker and captain Pickering said: "From a personal point of view I am extremely pleased to confirm that I will be standing again for the position of national appointed director and consequently hope to remain as chairman.
"And it is with a great deal of enthusiasm and relish that I look to the clubs and ask them to allow me to continue to represent them to the very best of my ability in the world game."
If elected, Davies hopes to "lift the whole of the rugby community in Wales to try and be far more positive, happier and bring the enjoyment back into the game".
Davies is a former Wales team-mate of Pickering, an ex-Test captain and also a British and Irish Lions fly-half.
He denies his election bid is a protest at WRU actions, saying the governing body "does a lot of good work".
The former Llanelli and Cardiff player said: "It is time for fairer representation and hence that's why I'm standing.
"I would make the point that I'm very much standing as an individual, as a rugby fan, not as somebody actually involved in the professional end of the game.
"I obviously have that experience and knowledge now, but very much first and foremost as a rugby man who cares about the game and hopefully somebody who can make a difference."
Davies also believes that if he can make a difference, he should be doing so "as opposed to barracking from the touchlines."
Two places to be decided the Cardiff and Neath-Bridgend area districts are also to be voted on.
Results of the ballots will be known in September.
Three district representatives will be re-elected unopposed - Ken Hewitt, Ray Wilton and Richard Gwynn.
District B (Cardiff area) representative Roy Giddings is being challenged by Gwyn Bowden and David Young.
In District D Aurwel Morgan is standing down and will be replaced by either Cledwyn Edwards or Chris Morgan.
The WRU board survived a no confidence vote at an Extraordinary General Meeting in June.