Adam Jones set for Ospreys once regions and WRU agree new deal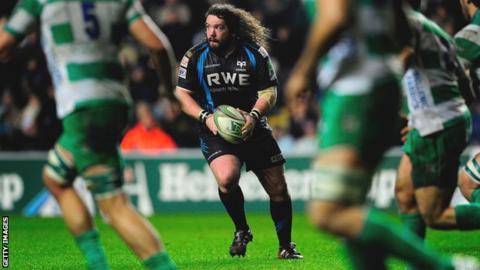 Adam Jones is set to sign a contract with Ospreys once the regions and Welsh Rugby Union (WRU) agree a new deal over the funding of the domestic game.
Wales and Lions tight-head Jones, 33, is currently out of contract and having to train on his own.
The WRU and the regions are still discussing a participation agreement (PA) - a contract which governs the running of the game in Wales.
"I'm waiting for this PA to be signed so I can sort my future," said Jones.
"It sometimes gets misinterpreted in the press that I'm stalling, but the PA is the big thing for me regarding me signing for the Ospreys.
"And until that's done there's nothing I can do about it. I just have to do my own pre-season so to speak."
Jones, who has won 95 Wales caps and played in five Lions Tests, has been an Ospreys player since the region was established in 2003.
The last participation agreement between the WRU and Regional Rugby Wales (RRW) ended on 30 June.
The contract provided partial funding via the WRU in a deal which guaranteed a set level of income for the regions and covered the release of players for Wales international duties.
Jones revealed he was first offered a new contract by the Ospreys as far back as October, 2013.
He also confirmed that he discussed a central contract with the WRU which was worth more, but emphasised there was "not that much" between the two offers.
He added: "My heart as always been with the Ospreys and the central contract could only be signed if the club or the region weren't offering a contract.
"It's the same as it has been from the start to be fair.
"I think it was back in October that we first started talking [with Ospreys] about re-signing next year until the World Cup and it's always been when this PA gets signed."
Jones said the Ospreys did not want any disruption in their squad so he has been training on his own.
"The last week has been pretty hard when everyone has gone back to pre-season, but you've just got to crack on, on your own I think.
"To be fair to the Ospreys they've been good. I know there's a bigger picture than my contract and I'm just a tiny, small bit in it."