Wales: Robert Jones tips Gareth Davies to oust Mike Phillips
Last updated on .From the section Welsh Rugby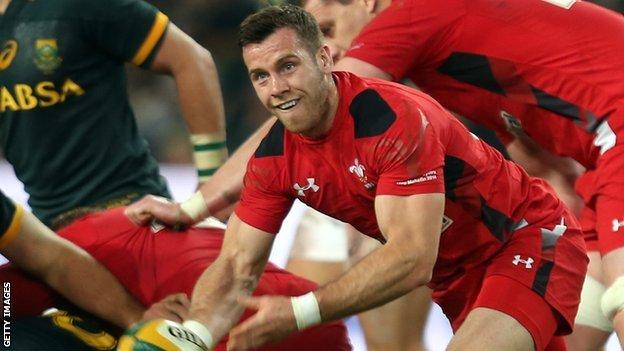 Gareth Davies should take over from Mike Phillips at scrum-half for Wales in Saturday's second Test against South Africa, says ex-player Robert Jones.
The former British and Irish Lion also believes Matthew Morgan should start at full-back instead of Liam Williams.
Davies, 23, and Morgan, 21, impressed on their debuts as replacements in Wales' 38-16 defeat in Durban.
"I think Warren Gatland will and has to go for Davies he's been in form for most of the season," said Jones.
"And I think as we saw in the 20 minutes or so that he played on the weekend that he continues that form on to the international field."
Jones, one of the key players on the 1989 Lions tour to Australia. does not believe Racing Metro and Lions number nine Phillips, 31 and with 86 Wales caps, should be discarded altogether, but feels Scarlets' Davies warrants a Wales start.
"He's good enough at the moment to step into Mike's shoes and play a big part in Wales' future," said Jones, who played 54 times for Wales between 1986 and 1995.
"I don't think you can discard Mike. He's got too many qualities, so much experience.
"But I certainly feel that as we try to regain some pride that Gareth Davies' form at the moment deserves an opportunity."
Jones, who captained Wales and Swansea during a career that included helping Wales to a Five Nations Triple Crown in 1988, added: "He [Davies] was sharp in terms of his passing ability and I just think he proved a point on the weekend."
Davies says Phillips is "one of the best scrum-halves in the world" and would be happy to just be involved again.
"I think I'm similar and think I'm quite physical and fast like Mike," he added.
"I've watched Mike play a lot so I've learnt a lot off him."
Diminutive Morgan, who is soon to leave Ospreys for Bristol, has also done enough in Jones' eyes to start at 15 in Nelspruit on Saturday.
Scarlet Williams took over from Leigh Halfpenny, who was out with an injured shoulder, for Wales' final Six Nations game against Scotland and was man-of-the-match in the 51-3 win.
But Jones says the 13-times-capped 23-year-old could make way for a player who he says "offers something a little bit different".
"Liam Williams is a good player, we know that," said former Swansea, Cardiff, Bristol and Western Province scrum-half Jones.
"He didn't have his best game at the weekend, but Matthew Morgan certainly offers something a little bit different.
"And I think where we are, trying to regain some pride and certainly looking to bounce back from a pretty poor performance Saturday, a couple of changes and some excitement behind will hopefully rejuvenate some of the enthusiasm that we as supporters and the team as a whole, I think, would want."
Wales forwards coach Robin McBryde said no-one has the "God-given right" to play in the second Test, highlighting the opportunities that may come the way of Davies and Morgan.
Wales are expected to name their line-up on Thursday.