Saracens v Northampton: Jeremy Guscott on the Premiership final

By Jeremy Guscott
Rugby Union analyst, BBC Sport
Last updated on .From the section Rugby Union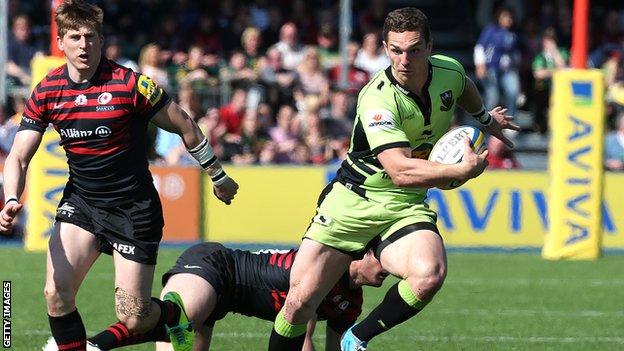 Either Saracens or Northampton Saints will be crowned Premiership champions when they meet in Saturday's finale to the domestic season at Twickenham.
Saints, winners of the Amlin Challenge Cup last week, are bidding for their first Premiership success, having lost to Leicester in last year's final.
So who will be the key men on both sides, what effect will the two sides' European experiences last week have, what sort of game can we expect, and who will win?
Game changers give Saints edge
Wales wing George North has been a fantastic addition for Saints this season, not just in his performances, but also by his professional approach which would impress even the most seasoned pro at the club. It will have raised everyone's levels inside that dressing room.
The 22-year-old British & Irish Lion gives you so many options. He can dive over for a try from five yards, or score from 95 yards with a powerful run. He can also help the Saints forwards carry the ball when they get a bit tired. With his 6ft 4in and 17-stone frame, he runs very quickly and has a big impact.
North is without doubt a world-class player and he has the X-factor. He is a potential match-winner.
Centre Luther Burrell has had a career-changing season. The 26-year-old's form saw him picked for England and that run continued during the Six Nations.
The Yorkshireman showed potential when he was at Leeds and then Sale, but you always wondered if that potential would be realised. But this season, he has been making breaks, off-loading and scoring tries for both Northampton and England.
He'll be back playing at inside centre and up against his England team-mates Brad Barritt and Owen Farrell, which will be intriguing to watch.
Barritt will have a lot to prove and would like nothing better than to put Burrell on his backside a couple of times, and conversely Burrell would like to run by or through Barritt a few times.
Barritt is more defensive, he's a better tackler, but Burrell is better going forward.
Fly-half Stephen Myler is another game-changer for Saints. He has gone about his work this season with calmness and efficiency, his kicking at goal has been precise and his game management has been pretty impeccable.
I suspect the combination of locking down his starting place in the team and the arrival of attack coach Alex King, who joined at the start of the season from Clermont, has really helped improve Myler's performances.
Myler has been given more time to do what he is good at, rather than worrying about keeping his place. In the last few seasons he has always faced strong competition for his shirt and not had the opportunity to play a run of games. Now he is playing well - providing try assists, kicking plenty of goals - to keep his place.
Another major factor is that Saints skipper Dylan Hartley will play after being named on the bench following a shoulder injury. Hartley's line-out ability could be a key factor because the percentage of successful line-outs when he plays is huge.
He is the big influence within that Saints side and his return gives them the perfect boost.
Brits gives Sarries special qualities
England fly-half Farrell is the player who makes Saracens tick. He has let the ball go down the line more this season than last but, for me, still hasn't found the route to making line breaks consistently in Premiership games.
While the number 10 orchestrates the side, Sarries are also fortunate to have another driving force in hooker Schalk Brits.
The South African will take on backs and forwards with equal pace and determination, his attitude to running with the ball is refreshing and enjoyable to watch.
It must disconcerting for some backs when you have a hooker running at you who might be able to take you on the outside or dummy and go inside, that's the special qualities of Brits.
England number eight Billy Vunipola has to be a big focal point for Sarries to get in behind, he has to be the momentum that the team can capitalise on and score the points to win the game.
Saints confident after European success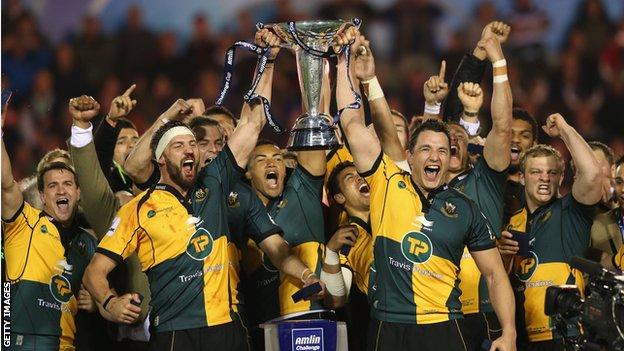 Saints must be on a high after winning the Amlin Challenge Cup last week, when they beat Premiership rivals Bath in a 30-12 win at Cardiff Arms Park.
It might only be a 'second-tier' cup, but winning is still winning. They have some silverware and it is always good to have a trophy in the cabinet for a hard season's work.
And winning breeds confidence. Saints will have been pretty light in their training for the last few weeks because the intensity of the games against Premiership semi-final opponents Leicester Tigers and Bath has been huge.
They will have just been doing some low intensity run-throughs, with some drills and techniques. But Saints will be in a better place mentally because of the wins.
Now they have chance to redeem themselves for last season's defeat against Leicester.
Can Sarries shake off Heineken hangover?
While Northampton are on a good run and won't have to change much, Saracens will be questioning themselves.
Sarries were beaten by a very good Toulon team in a European Cup final that lived up to its potential. But they couldn't repeat the level of defensive dominance and intensity they had in the semi-final against Clermont. Sarries will be very conscious that they have worked hard all season, yet they still might not win anything which would be a huge disappointment.
This week on the training ground, they will have been reminding themselves how good they are. They finished top of table and only lost three games all season - that doesn't happen by chance. It happens by planning and hard work.
From personal experience, you're more up for a game having lost the week before. It gets you going - it's annoying to lose when you're a good team.
You look for answers as to why it happened but it's hard to realise you just came up against better team. Toulon were just much better.
Now Sarries have to believe that what they've produced in the league up to now will be good enough to see off Saints.
It has only been the French sides that have battered a full-strength Sarries - I'm not convinced Saints can do the same.
Will final reflect rise in standards?
I don't believe just a big defensive effort will win Saturday's match - or at least I hope it doesn't.
Both teams have scored plenty of tries, with the last Premiership game between the two sides providing five tries as Saracens edged to a 28-24 home win.
More of the same attacking intent would be great to see - I'd love it to be an attacking match with four, five, six tries. But that may be wishful thinking - finals are generally tight affairs.
This match should be played at an intensity that reflects the improved playing standards in the Premiership this season. It's been very competitive and these two have come out on top, the game must reflect the great season it has been.
Jerry's verdict?
I feel Saints have the edge with their game-changers if they can get them into the game and not be squeezed by Saracens. They should just get over the line to win their maiden title. I'll take Saints to win by a score.