Plymouth Albion to sign scrum coach and international prop
By Brent Pilnick
BBC Sport
Last updated on .From the section Rugby Union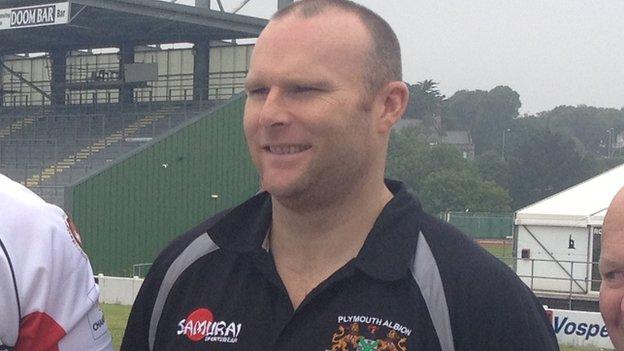 Plymouth Albion are to sign a new scrum coach and an international prop.
Boss James Shanahan has told BBC Sport that he is waiting on a visa for his new prop before unveiling his identity.
Albion have already brought in eight new forwards for the 2014-15 Championship season as Shanahan looks to improve on last season's eighth place in his first season in charge.
"The new prop should be issued with his visa, although he won't be available to the beginning of August," he said.
Shanahan has also agreed terms with a new back-row forward, who he hopes will sign his contract in the next few weeks.
"We struggled in games as a the pack and the front five in particular," Shanahan told BBC Sport.
"We need to improve on that and I believe the players I've signed will improve that and the scrum coach I'm bringing in will improve that.
"The forwards were key for me, and we went through too many games this season where we didn't get enough first-phase ball and get a chance to dominate the opposition.
"When we did we were able to play a good style of rugby and put some teams under pressure and win some games."
And Shanahan says he was surprised with the number of new players he brought to the club after his first full season in charge at the Brickfields.
"From January I've been researching, analysing and trying to find the players who I believe fit the skill set to try and improve us as a side," added Shanahan.
"There's some really tough decisions and I can't fault any of the players from last season in terms of the commitment and attitude that they put in.
"But there was change needed and I surprised myself with the amount of players I've brought in.
"I was thinking between eight and 10, but it's probably going to look like 19 by the time I'm finished.
"It's a big overhaul, but I believe I'm bringing in players who fit certain skill-sets and criteria I need for us to play the kind of rugby I want to play."