Chris Pennell: England recognition pleasing for Worcester full-back
Last updated on .From the section Rugby Union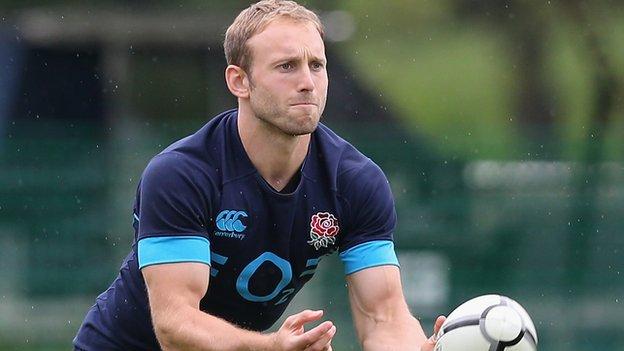 Worcester's Chris Pennell is pleased at getting his England call-up, despite playing for such an unfashionable club.
"A lot of people would say I need to play for a top-six club," Pennell told BBC Sport. "This is proof you can get a shot as long as you're performing.
"Chris has grown as a person and player over the last year," added Ryan.
"His performances during that time illustrate his potential to compete on the international stage.
"His commitment has been a catalyst to his personal success and I am delighted to see him recognised with a place in the England squad."
Pennell, 27, who has already made it clear that he is more than happy at his hometown club, even playing Championship rugby and certainly believes that Ryan and his backroom team at Sixways have made an impact.
"There's been a lot of frustration this season," he told BBC Hereford & Worcester. "But I've always seen the potential here.
"To have guys like Dean Ryan, Shane Howarth and Carl Hogg 100% behind you means a huge amount and really spurs you on.
"And now we've got things right on the coaching side, it's been frustrating that results have not gone our way."
Pennell is far from the first Warriors player to be picked by England.
Former Worcester skipper Pat Sanderson captained England on their summer tour to Australia in 2006 towards the end of a career which, also taking in his time at Sale and Harlequins, earned him 16 caps.
Prop Matt Mullan, now at Wasps, won the first of his three England caps as a Worcester player in 2010.
And flanker Matt Kvesic, who left Worcester for Gloucester at the end of last season, was twice capped on England's tour of Argentina last summer and is in the 30-man squad for New Zealand.
Pennell continued: "I'm really pleased to be where I am, having got that plane ticket. It doesn't get much better than this.
"But, ultimately, the goal is to eventually pull on the jersey and get on the field. This was a huge step in that direction.
"Just being in the environment, I've come on a huge amount in the last week. I've already learned a lot.
"It's a huge challenge being up against Mike Brown. And don't forget Alex Goode and Ben Foden. Hopefully, we'll drive each other on to see how good we can be.
"I guess I'm in the shop window now from the England coaches' point of view. They'll know a lot more about me in four weeks' time."
As for why his chance did not come sooner, Pennell admits that a knee injury in 2009, followed by an ankle problem in 2010, did not help his progress.
"I don't think I warranted it before to be honest," he said. "I've struggled with injury.
"This season and the back end of last season has been the first time I've been 100% fit since I was 18 or 19.
"That's made a huge difference, getting game after game under your belt.
"And now I'm determined to take the opportunity I've been given."