RWC 2015: Dragons coach Kingsley Jones quits Russia role
Last updated on .From the section Rugby Union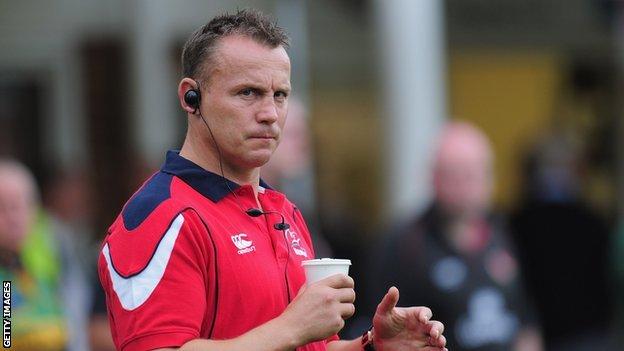 Russia's Welsh coach Kingsley Jones will leave his role following their crucial 2015 World Cup qualifier against Germany on Saturday.
Newport Gwent Dragons assistant coach Jones cites family reasons for his decision.
Russia are three games away from qualifying for the 2015 World Cup hosted by England.
Jones took up the Russia role in 2011 and his assistant, Frenchman Raphael Saint Andre, takes over.
Eight 2015 tournament games take place at Cardiff's Millennium Stadium.
Had he remained in his role, ex-Wales captain Jones would have led Russia into a second global tournament.
And he has the option of acting as a consultant to Russia Rugby Union (RRU).
He said: "A big part of me would love to lead the team to their second RWC (Rugby World Cup) and, of course, to potentially play Wales at the Millennium Stadium.
"But the time away from the UK from now until RWC 2015 is going to be around 40 weeks and my personal circumstances have changed considerably, having three children under five years old.
"I have really enjoyed my time with the national team, it's been not only a I great coaching experience but also life experience."
RRU vice president Howard Thomas says Jones has left the nation's players with greater knowledge and skills.
Thomas added: "It is with great regret that we lose Kingsley. He has worked very hard."