Mike Blair column: Hogg red card hinders analysis of Scotland loss

By Mike Blair
Former Scotland scrum-half
Last updated on .From the section Scottish Rugby240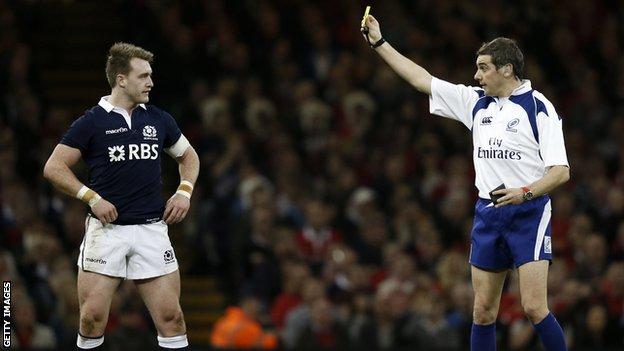 Being a Scotland player and supporter is an emotional roller coaster.
Players, management and administrators from our sport will no doubt be widely scrutinised by the media and public to try to find reasons for the record loss in Cardiff.
I'm disappointed we weren't really able to see whether there was any progression from the Italian win, to the improved performance against the French and onto Cardiff because the simple matter is that Stuart Hogg's red card ended the game as a contest.
I would love to be analysing Scotland's attacking structure, decision-making in defence or kicking game but everything changes when you're reduced to 14 men and unfortunately Scotland didn't adapt quickly or effectively enough.
It's a harsh lesson for Hogg. Many people will ask whether the action truly deserved a red card or not, but for me the question is what was he doing even putting himself in the position to be carded? The challenge was late and clumsy at best.
Hogg isn't a malicious player, he's one of the most talented players to pull on the Scottish jersey in the last 20 years and he wears his heart on his sleeve, sometimes teetering on the edge of petulance.
It's a great lesson for him and nothing will have hurt him more than having to watch his team-mates suffer for the remaining 60 minutes of the game. Never has the saying: "fire in the heart, ice in the head" been more apt.
When your full-back is sent off you have two options in my opinion: either you take off a back row forward and replace him with Jack Cuthbert, a back three player, thus maintaining your back field integrity; or you play defensively with your scrum half, Laidlaw, working as the full back.
Either way you take a risk. Personally, I thought the Welsh strengths lay in their backs and with Dougie Fife winning his first cap on the wing too, I would've been tempted to have my backs at full compliment. Without a full-back, defensively the wingers can't 'close' on the last man on attack.
He has to sit a touch deeper, keeping an eye on the kick through too and this gave the pacy Welsh back-line space to move and time on the ball.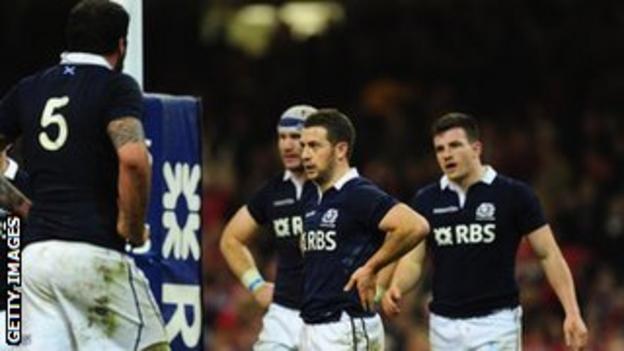 The problem that Johnson had with his choice was that a lot of the Welsh tries came from turnover ball, whether it be at the tackle or the set-piece, which meant that it was impossible for Laidlaw to be able to move quickly enough from an attacking breakdown or set-piece into a full-back's defensive role, which ended up with Scotland being exposed out wide.
The Welsh have to be congratulated on the way they finished their opportunities. They were sensational: speed, power and slight of hand in equal measures made them almost impossible to stop.
Second row, Alun Wynn-Jones's 15m spin pass off his left hand in the lead up to Toby Falatau's try showed the ability of this Welsh side when they are confident and on form.
A feature of the Welsh play was their attacking support lines. Watch Falatau in particular throughout the game heading up the 'fatties channel' (up the middle of the pitch), as the ball moves wide.
He's reading the game and predicting line breaks, waiting for the ball to come to him. This support is the difference between creating opportunities and taking opportunities.
I've mentioned it in previous columns and feel that it's important to reiterate some of my thoughts regarding Scotland's performances and results. Scotland can compete and win against all the teams in the Six Nations Championship, no doubt.
But they can't afford to try to do it with one hand tied behind their backs. Discipline is one key area where time and time again Scotland let themselves down but also handling errors that you just wouldn't expect from individual players.
If you discount Hogg's red card and you look through the Scotland XV, no-one really had a bad game, everyone was fairly solid and there wouldn't really have been anyone going to bed on Saturday evening thinking, 'that was my fault'.
The problem is everyone made one bad decision or one error and these stack up. This is international rugby and, where margins are tight or odds are stacked against you, everything needs to go right.
You regularly need three or fours players having outstanding games and everyone else playing to the best of their ability. Think about the Irish performances and their consistency.
With each game they played in the Championship they had a number of players, often different ones, who could have been man of the match and everyone else just did their job.
For Scotland to be able to consistently compete at this level this is what they need to find. Don't settle for it not being your fault for losing, instead make it that the game was won because of you.