Six Nations 2014: Wood says Irish will remain force post-O'Driscoll
Last updated on .From the section Rugby Union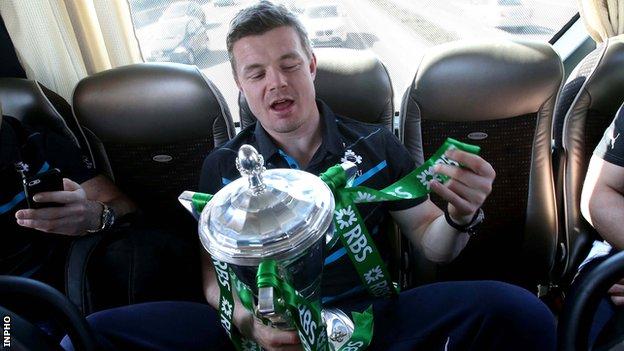 Keith Wood is convinced Ireland will remain a force in international rugby despite Brian O'Driscoll's retirement.
However, former Ireland hooker Wood remains optimistic about the future.
"They still have decent players. One of the elements of this season is that Joe didn't go with some of the exciting players," Wood told BBC Radio 5 live.
"That was surprising because he is an exciting coach.
"He went with an incredibly pragmatic approach because he wanted to get the team comfortable and be able to bring variation in the tactics depending on the sort of team they were playing against."
BBC Sport rugby pundit Wood says that Schmidt's faith in Ulster wing Andrew Trimble exemplified the coach's approach to his opening Six Nations campaign.
"He eschewed some of the more flair players for other guys like Andrew Trimble.
"Trimble has probably under-performed in an international jersey. He has never looked comfortable but he has been a revelation this season.
"I thought he was the man of the match yesterday and every time he touched the ball he made an impact.
"He frightened the life out of Mathieu Bastareaud, one of the most terrifying guys in the game.
"This is what Joe Schmidt wanted, players who would do what they were told because he has de-risked some of the things Ireland do.
"There are guys waiting in the wings like Simon Zebo who will have to work incredibly hard to get into this Irish team now.
"If he wants to fit into Schmidt's plan, he is going to have get involved in more collisions, ruck up on the outside.
"There is a template there that these players are buying into."
While Ireland players such as Paul O'Connell, 34, Mike Ross, 34, and Gordon D'Arcy, 34, are all nearing their mid-30s, Wood is confident that Schmidt will be able to skilfully guide the squad into next year's World Cup.
"There is no need for panic because we have a guy at the helm with a plan who knows what he's doing," continued Wood.
Another former Ireland great Willie John McBride is also optimistic about the country's future under New Zealander Schmidt.
"There are maybe one or two guys who are maybe at the top of the mountain who will maybe disappear over the next year or two," Lions legend McBride told BBC Radio 5 live.
"But looking around and at the provinces, there is still the basis there of a great Irish team and a nice blend, so I would be very hopeful about the future.
"We have got a great coach and the players are obviously reacting to him.
"The big difference is this team really believes in itself. Each player believes in the people around him.
"The coach has given them great confidence in what they are doing. Every player knows exactly what his job is on the field."
McBride spoke of his delight at the glorious finish to O'Driscoll's international career.
"It really was a dream come true and great that it happened because he has been such a stalwart of Irish rugby over the past 15 years.
"I come from the old amateur era and remember people like Mike Gibson and Jackie Kyle but in this professional era, Brian has not only been outstanding for Ireland but an outstanding rugby player worldwide.
"He has been a great example and for me he stands a long way ahead of everyone I have seen in the last 15 years."