Stuart Lancaster: England can win 2015 World Cup
Last updated on .From the section Rugby Union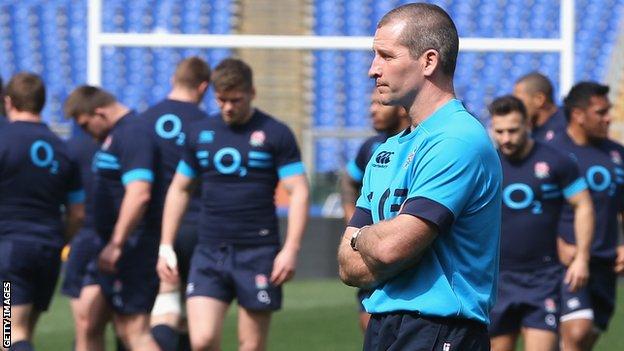 England coach Stuart Lancaster believes his side are well placed to win the 2015 World Cup after they finished as runners-up in the 2014 Six Nations.
When asked if England could win next year's World Cup on home soil, he said: "Yes I do, absolutely.
"I've always believed that and I've believed it from minute one."
Lancaster took over as England coach for the 2012 Six Nations and has overseen the type of overhaul he believes has put his side ahead of some of their international rivals.
"It has been a steep curve and we have had to do it quickly," he said.
"We have been through our period of transition. I look at other international teams with a lot of over-30s playing for them and think 'they are going to have to go through a period of transition at some point'.
"We've been through that and have got a very young side. This team will be around well beyond the next World Cup and way through to 2019."
Asked about where his side had made improvement, Lancaster added: "Attack.
"I think 14 tries in the Six Nations is more than double what we scored last year. Also the intent with which we have tried to play and the shape and the framework we've played with.
"People can see quite clearly what we are trying to do and it is hard to defend against. We have made good progress in that regard."
However, he insisted there was still room for "a 10% improvement in every area" before a summer which will see England play a three-match series against New Zealand in June.
"There is a long way to go but this Six Nations has been a good step forward for us," said Lancaster.
"I'm never satisfied and always want to keep improving."