Cornish Pirates boss Ian Davies expects player departures
Last updated on .From the section English Rugby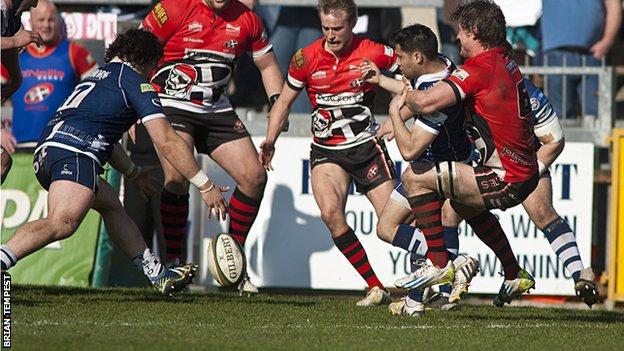 Cornish Pirates boss Ian Davies expects some of their players to move to the Premiership and other Championship sides at the end of the season.
Davies said it was an unwelcome reality for a club without the financial muscle of some of its rivals.
"You don't mind so much if they go to the Premiership because you can say you've helped them achieve," he added.
"You don't want them to move to other Championship clubs but that will happen - other clubs have bigger chequebooks."
The Pirates have persuaded several young players to sign new deals with the club, which Davies believes is crucial in terms of achieving some continuity for his squad.
"Guys like Darren Barry and Tom Kessell are key to us," he said.
"Even though they're youngsters they have got a fair bit of Championship experience and I've no doubt they can go on to play in the Premiership, so it will be good to have them here for another year or so before moving on.
"You always have to be looking ahead. You know clubs are going to be coming in for some of your players. You always have to have an eye on replacements and once people move on and you have to move fairly quickly."
The Pirates lost 46-33 to leaders Bristol last weekend, and face London Welsh, another of the favourites for promotion, on Sunday.
"It doesn't get any easier - London Welsh are a Premiership side playing in the Championship," said Davies.
"They're well-resourced and are certainly looking to bounce straight back up. They're quite set-piece orientated and a big physical team - they do play a little bit but they are very, very big!
"The gameplan is to hope the sun is out, move the ball and try to get to the wider spaces where we've got pace and try to create mismatches
"We're at home, and they gave us a kicking when we played up there, so we have lots of motivation."