Mike Blair column: Scots must play smart with referees

By Mike Blair
Former Scotland scrum-half
Last updated on .From the section Rugby Union101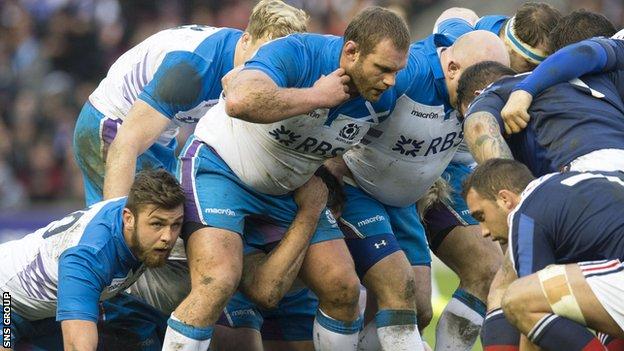 The post-match analysis from Scotland's loss to Wales at Murrayfield last year was centred on the scrum. Scotland were manipulated, dominated and penalised heavily.
There were calls of foul play from the home pack, complaining it was the referee who was in fact manipulated by the canny Welsh front row, with talk of soft hits, pushing, pulling and general mischief.
Scotland were out-thought rather than overpowered, or so the story goes.
It makes the media coverage of Gethin Jenkins' yellow card against England on Sunday for consistent 'boring-in' even more intriguing. Jenkins claimed he was being victimised by referee Romain Poite against England and asked not to return to the field after his 10 minute break.
When you get on the wrong side of a referee, it is near impossible to change his opinion - Scotland prop Moray Low will agree since Steve Walsh certainly had it in for him in Rome.
Robin McBryde, Wales' scrum coach, has said publicly that he will be challenging the International Rugby Board on some rules and interpretations to seek clarification. The mind games have started already.
Jenkins has received three yellow cards in the past six games though, so if I were Scotland captain Kelly Brown I'd be doing plenty of huffing and gesticulating towards the Welsh loose-head side of the scrum.
Even if he can't see what's going on, it puts pressure on referee Jerome Garces as he will be aware of Jenkins' recent rap sheet.
The on-field relationship with the referee is probably the most important part of a skipper's duties - knowing which buttons to press and at what time, when to speak and when to stay quiet. If and when Chris Cusiter comes on I'd encourage him to speak to Monsieur Garces in French - it might just make a difference.
I'm not usually one for scrums but I'm actually looking forward to seeing these two packs go head-to-head, trying to outsmart and outmuscle each other. I'd expect Scotland to be a bit sharper than they were last year.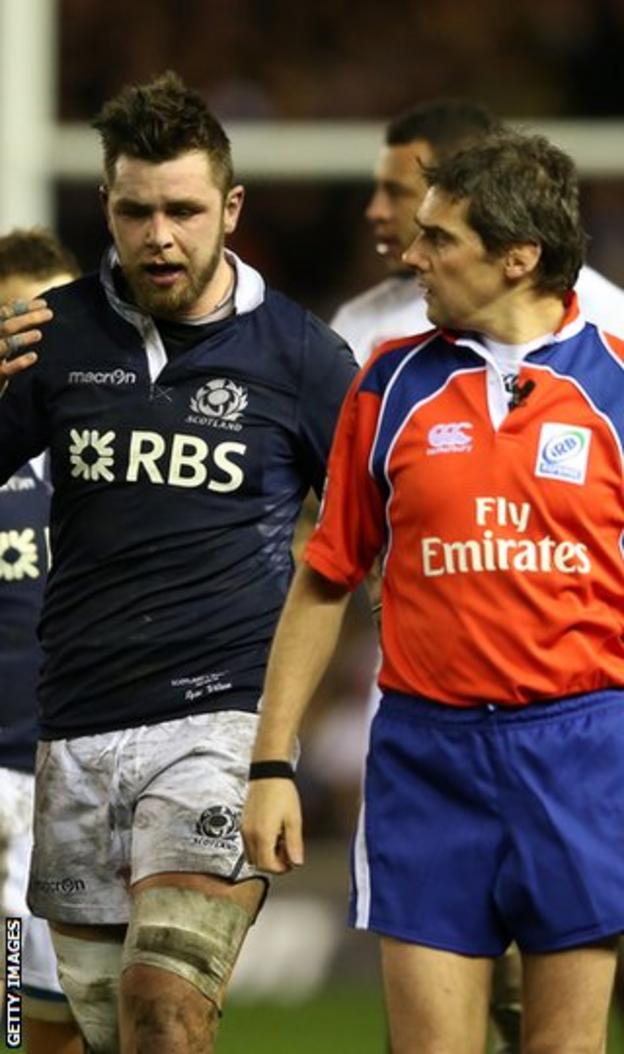 Ryan Grant just might have learnt a few tricks while touring with the Welsh props on British and Irish Lions duty.
There are some great match-ups in the back lines too. Jamie Roberts against Matt Scott will be an intriguing contest and the Edinburgh centre will have to be at his sharpest defensively.
The Welsh will hit through the 10-12 channel frequently but they often have the option of one of their strong, dynamic wingers sitting just in behind Roberts. If Scott moves too early to make the read on Roberts then the half-gap is created on the outside shoulder for George North or Alex Cuthbert.
On the subject of wingers, Dougie Fife will win his first cap on Saturday and what a great place to do it.
He's a young man with humility and perseverance; he listens to advice and picks things up quickly and has a great ability to be in the right place at the right time. Fife will be up against North who wasn't at his best against the English and will be desperate to get in on the action.
If Wales win the toss, my money would be on Dan Biggar kicking to Fife's side with North chasing - a nice welcome to international rugby.
My advice for any first cappers is do what you do for your club at international level. That's why you were picked.
So, for Fife it's running hard with the ball, supporting line breaks, low tackles, competing for ball and dominating the air.
There's no doubting his intelligence on the pitch but off the pitch you'd have to question the guy for stopping at the bureau de change in Edinburgh Airport to get euros for the weekend...