Six Nations 2014: Scotland can win in Wales, says Jim Telfer
Last updated on .From the section Rugby Union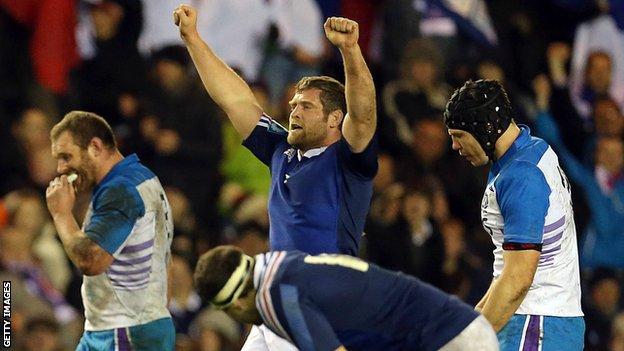 Scotland can end their Six Nations campaign on a high by beating Wales, according to former coach Jim Telfer.
Scott Johnson will take Scotland to Cardiff for the last time on Saturday, seeking their second win of a frustrating Championship.
Telfer said Johnson is doing "a reasonable job" and believes his inconsistent side can secure victory.
"I think the conditions will suit the kind of game we're trying to play," Telfer told BBC Scotland.
The Scots will seek to banish the disappointment of losing to France at Murrayfield and Telfer believes there are grounds for optimism.
"Wales aren't nearly as good as they think they are," Telfer said of the side that lost to England at the weekend.
"They were shown up badly on Sunday and, even against the French, they'd won the game in the first half, but the French didn't turned up.
"The Murrayfield pitch hasn't helped us at all and I'm glad it's being changed."
Telfer conceded there had been a lot of discussion regarding Johnson's team selection, but he backed the head coach's decision-making during the current campaign.
"You choose a coach - the SRU chose him - and you have to live by what he does," added Telfer. "There was a lot of controversy about his selection, especially with Kelly Brown, and I go along with the coach; he made the call.
"And he then brought him back. I think he's doing a reasonably good job and you do see improvements in the individual skills of the players and certainly in their collective skills.
"There has been some controversy about the selections, but I thought on Saturday he probably got to as close as the best XV available with Scott Lawson playing, the back division settled and Kelly Brown back in the back row."
With Johnson aiming to build a Scotland side equipped to perform strongly at the World Cup, Telfer believes that preparation should not be at the expense of winning games in the Six Nations.
"It's still over a year before the World Cup comes along and it's important that we develop players," he said.
"But it seems to me that other teams are picking teams to develop but also to win.
"He has to find a squad of about 35 players for the World Cup. If that's his interpretation of what his job is then that's up to him.
"It's not necessarily my first priority if I was the coach; it would be to create a very good performance in every game.
"Consistency is what we don't have at the moment."
Telfer empathised with Scotland's defeat by France but felt the visitors were able to up the tempo late in the game to devastating effect,
"They put themselves into a position to win the game," he said. "Having scored two very good tries, Scotland were on the front foot for most of the game.
"But France really stepped it up from about 75 minutes and it seemed to me they were looking for points and eventually got them."
Johnson expressed frustration over New Zealand referee Chris Pollock's penalty calls in the defeat at Murrayfield and Telfer echoed those views.
"The players must be mystified sometimes by the decisions of the referees because, at the breakdown in particular, the French were slowing the ball down a lot," Telfer added.
"They were never penalised, whereas Scotland gave away two or three penalties because they held on and so on. It's often down to referee interpretation."