LV= Cup: Exeter Chiefs coach Rob Baxter calls for more from finalists
Last updated on .From the section Rugby Union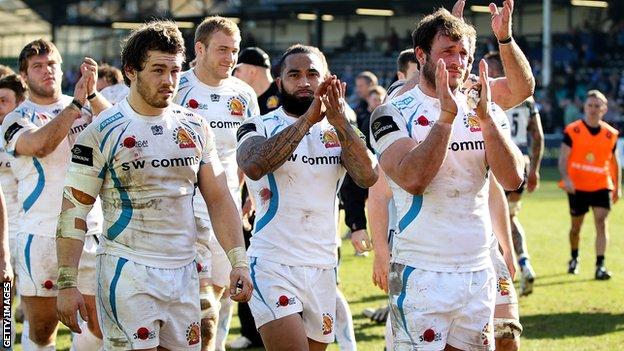 Exeter boss Rob Baxter says his players need to raise their performance levels again if they are to win the first major trophy in the club's history.
The Chiefs beat Bath 22-19 to edge into Sunday's LV= Cup final at Sandy Park.
"We are focusing on the negatives but they know why - they don't need me to baby them and tell them they're great players," Baxter told BBC Radio Devon.
"We were just about good enough to win a semi - but it won't be good enough to win a final."
Baxter said the euphoria of Exeter's first win over Bath since 1978 could not mask the lack of accuracy and poor decision-making which almost cost them victory, with the home side missing a last-gasp penalty to tie the scores.
"I said to the guys to go out and enjoy the result," added Baxter.
"We've won a semi-final and it's important to celebrate the good times but we also said 'come on - let's work hard as individuals to add the bits that really matter'.
"I think it's just something in our DNA at the moment - we're never going to do anything easy. Even with time virtually up we managed to throw the ball away to give them a shot to nothing to tie the game."
The Chiefs' season has been marred by a series of narrow losses in the league which has left the club in eighth place in the Premiership table.
"I am pleased for the players, it feels like they've worked really hard this season and at times not had the bit of luck which makes it all worthwhile," he said.
"But I think it will be good for us in the long run - it will make us mentally tougher and make us look at things more forensically as a coaching team."
Exeter had to fight back from a diabolical start, with Leroy Houston crossing for Bath just 29 seconds after kick-off.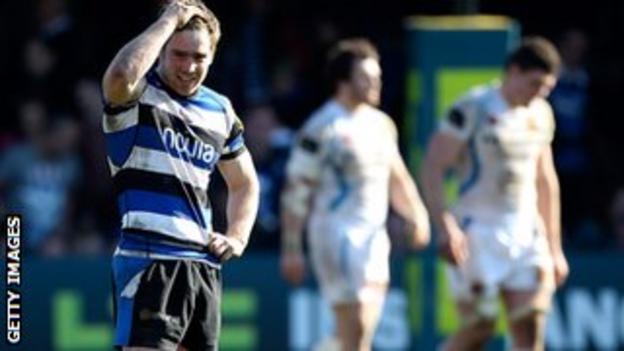 "We started with a whimper, our defence was awful," admitted Baxter.
"We were seven points down without firing a shot and to be fair we showed some mental toughness to come through that. And in the second half we showed some physical toughness and we fought our way through it.
"Fighting through tough times is something we have in us but my job is to add the quality and the accuracy on top of our honest endeavour, then we can become a very good side.
"We had some irresponsibility in how we looked after the ball, we had some silly decision-making and put ourselves under pressure.
"I'm not going to back away from it. It's something we're really working on with the players - we're hitting them hard on their individual decision-making to accelerate the process.
"That's where we need to go as a team, otherwise we can go along quite happily as a team, having a good season in mid-table - but we want to be better than that and that will take hard work and some real honesty."