Scotland: Chris Paterson agrees to take part in concussion study
Last updated on .From the section Scottish Rugby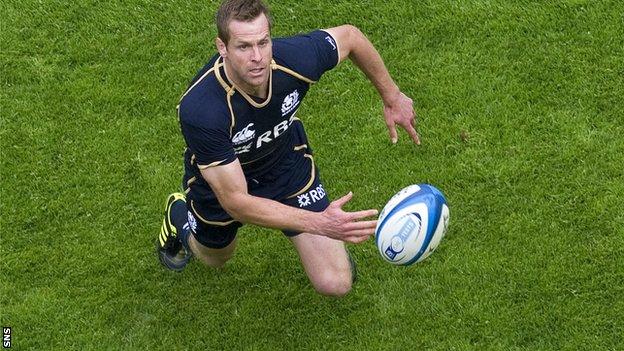 Chris Paterson wants other former Scotland internationals to join him in contributing to a "ground-breaking" study into the effects of concussion.
Scottish Rugby is to research whether head injuries can have a long-term effect on a player's health.
It will examine whether neurological conditions among former players stem from knocks to the head.
"We have the opportunity here to help the future of the game and players' welfare," said 35-year-old Paterson.
Concerns about the effect of concussion on rugby players have intensified in recent years.
In January 2011, 14-year-old Ben Robinson died from "second impact syndrome", as a result of concussion suffered while playing in a school rugby match in Northern Ireland.
And research in the United States has suggested American Football players are at an increased risk of dementia as a result of being concussed repeatedly during their careers.
Scottish Rugby says it operates under the mantra "If in doubt, sit them out," when it comes to anyone suspected of suffering concussion.
Its project will be conducted through research workers from the University of Glasgow.
Willie Stewart, a consultant neuropathologist at Glasgow's Southern General Hospital, said studies in other contact sports - particularly in the United States, suggested there could be links between head injuries and subsequent emotional, cognitive or physiological function.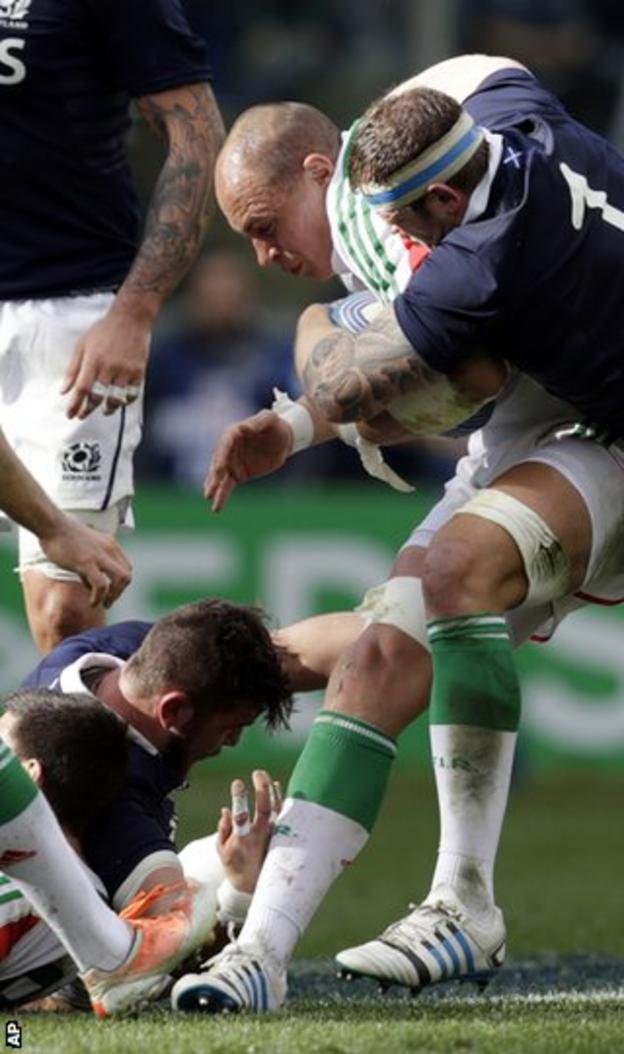 "What we are looking to find out is if there is evidence that head injuries in rugby union have any long-term health effects," he said.
"The importance of us working on this study, particularly with the assistance of Scottish Rugby, cannot be under-estimated. Rugby, globally, has been under the spotlight regarding management of concussion and within the medical world we're still not able to answer the question definitively: 'Is there a problem?'"
Dr James Robson, Scottish Rugby's chief medical officer, said concussion was currently "the singularly most important health care issue in a number of sports".
He added: "By looking back at our ex-internationalists we hope to learn how we can look forwards.
"Clearly things have changed over the years in the way we look after and manage players' health. I think player welfare has improved significantly but that does not mean we should rest on our laurels.
"This is an opportunity to take our care further."
Paterson, Scotland's most-capped player and record points-scorer, said he was happy to share his experiences to improve awareness of the effects of concussion within the sport.
"I'm a parent and I don't know if my children will choose to play rugby," he added.
"But I'd like to be able to use my experiences along the way, together with those of other players, to help shape the future and underline that our sport is doing everything it can to lead the way on understanding concussion for future generations of players at all levels of the game."