Six Nations 2014: Jeremy Guscott on France v England

By Jeremy Guscott
Rugby union analyst, BBC Sport
Last updated on .From the section Rugby Union214
Paris in springtime may be a romantic idyll but the Stade de France in mid-winter is an intimidating cauldron.
England travel to France for Saturday's game with two debutants and a three-quarter line boasting a grand total of nine caps between them.
But when I was fortunate enough to be invited to their training camp this week, the young guys seemed really up for it - and I have a good feeling about England's prospects for the challenge on Saturday.
A note of caution, however. It is the oldest cliche in the game but you really never do know which France will turn up and, after finishing bottom last season, they'll be desperate to start with a bang in 2014.
Crying Frenchmen and cockerels on the loose
Back in my day when you ran out on to the pitch in Paris you always had to dodge the odd cockerel smuggled into the stadium by fans, which was a real reminder you weren't playing at Twickenham.
And then came the anthems. Most of the French players would be crying, out of their heads with emotion, and chomping at the bit to get stuck into us English as they belted out La Marseillaise.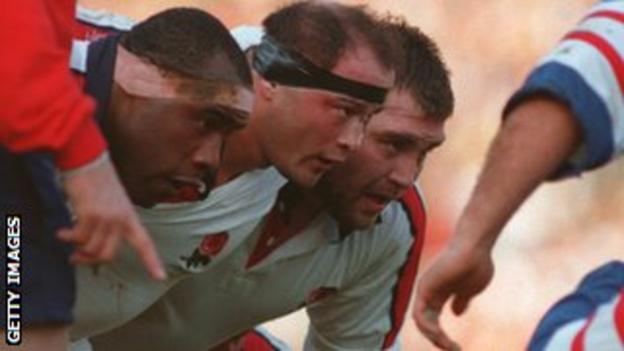 The French anthem talks about "this day of glory fighting against tyranny's bloody standard" and "watering their fields with blood" - so when you've got 80,000 fans all roaring it out, it is quite memorable.
Former England hooker Brian Moore, whose inimitable tones you will hear during commentary on Saturday, would absolutely love the matches against the French because he really enjoyed winding them up, mostly legally from what I could see but I'm sure some of the other went on as well.
Moore's mind-games were pretty effective though, and on many occasions it was the French themselves who got on the wrong side of the ref's decisions.
So what can we expect from France?
France's discipline was pretty dreadful back then but it is much improved these days and they're far better at keeping their emotions in check.
It isn't necessarily a change for the better, however, because now we don't see enough of the flair they were renowned for. I'd love to see it come back - but they can save it until after Saturday's game if that's OK with them.
Les Bleus had a shocking 2013, finishing bottom of the Six Nations and winning only two Tests out of 11, but there's no doubt they've got some talented players.
You have to think they can't be as bad again, even though they've got yet another new half-back partnership in debutant fly-half Jules Plisson and scrum-half Jean-Marc Doussain.
Plisson has guided Stade Francais to the summit of the Top 14 table so he's obviously doing something right, but he's an unknown at this level.
On the other hand, in the likes of exciting centre Wesley Fofana and number eight Louis Picamoles, who was far and away the best player in the tournament last year, they have real firepower. And France's back three are razor sharp - if they get the opportunity they will cut you to shreds.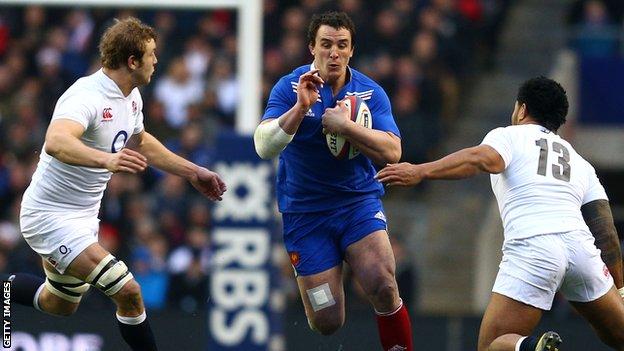 What about England's new boys then?
Centre Luther Burrell has been playing really well this season for an in-form Northampton team.
In attack he takes the ball up well, can get across the gainline, can offload and has decent distribution, while defensively he's also solid - as you'd expect from someone who is 6ft 3in and weighs over 17 stone.
Hopefully he won't be overwhelmed at winning his first cap in front of 80,000 at the Stade de France. England head coach Stuart Lancaster, who gave him his start in the professional game, clearly has faith he can handle it and I'm confident he'll have a great game.
New winger Jack Nowell is a really natural, bubbly guy and keen to get stuck in.
I'm a little bit surprised he's been selected as he's only 20 but Lancaster saw something about him when he first watched him play in an Under-18s game a couple of years ago, and if he can get his hands on the ball it will be good to see what the Exeter wing can do.
It will also be good to see him get a shoulder into his man as well, because defence is a big part of what he'll be expected to deliver on Saturday.
He was part of the England side that won the Under-20 World Cup and has edged ahead of team-mate Anthony Watson in the race to the full side.
Selection comes down to a feeling and Lancaster must feel he's shown a bit more maturity and is better equipped to handle what's coming than Watson, who is still only 19, at this time.
There are always going to be a question marks over youth but you go with your feelings and the vibe from the Heineken Cup, in which Nowell has been in great form for Exeter, is that he's ready and able to move up a level.
Time for Twelvetrees to step up
This Six Nations has to be the making of inside centre Billy Twelvetrees as a leader in the back line if he's going to be part of a successful England team.
I want to believe he's that person because fly-half Owen Farrell needs help with the leadership role and to get the England backs going.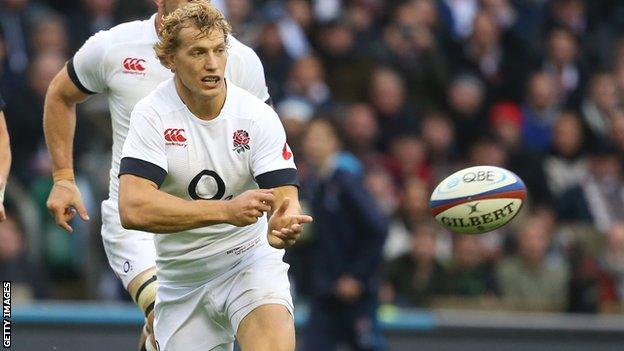 I have a good feeling about the partnership between Twelvetrees and Burrell - they're both big lads (which is handy given 18-stone France centre Mathieu Bastareaud lies in wait) but they can play too.
Twelvetrees is the artist while Burrell can be the blunt instrument when required, and outside them there's a back three that can really finish.
At scrum-half, Danny Care has won the nod over Lee Dickson. The Harlequins nine is a more threatening runner than the Northampton man but he needs to temper that great flair with more accuracy.
He needs to be calmer in his decision making and he must use his boot well. His box kick has got be to contestable and his clearance kicks have got to be long and away from French defenders.
France will miss captain Dusautoir
One of my concerns over the past couple of weeks has been the way the Toulouse back row dismantled Saracens in the Heineken Cup.
Thierry Dusautoir won loads of ball at the ruck for Toulouse against Sarries but fortunately for England the France captain is injured and will be absent on Saturday.
They will still have to face two-thirds of the Toulouse back row though, in Yannick Nyanga and Picamoles.
Number eight Picamoles was outstanding in 2013 but England counterpart Billy Vunipola is a monster as well and you'd expect him to carry on from where he left off against New Zealand. England also hunt as a unit and that makes them stronger.
Chris Robshaw, Tom Wood and Vunpiola have a great work-rate and I believe the England collective will get them through this match.
So who's going to win then?
I've got a good feeling for England. Recent form favours them and they have a decent record in Paris over the past few years.
If they can be accurate and keep calm they will win by 7-10 points.
Jerry was speaking to BBC Sport's James Standley.