Wales coach Warren Gatland gets WRU support to lead the Lions
Last updated on .From the section Rugby Union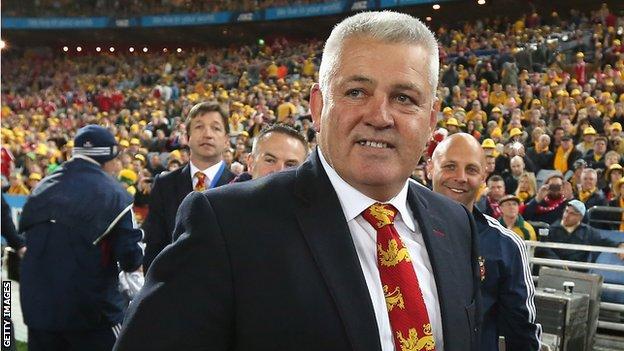 Welsh Rugby Union chief executive Roger Lewis has pledged to do "everything he can" to help Warren Gatland lead the British and Irish Lions in 2017.
There is no clause that allows Gatland a sabbatical to coach the Lions, who he led to a Test series win in Australia.
But Lewis said: "If the Lions want to consider Warren then we will certainly have that discussion."
The British and Irish Lions are due to tour Gatland's native New Zealand in 2017.
Gatland has hinted he would welcome another opportunity of leading them in four years time after masterminding a 2-1 series victory in Australia in the summer.
"The contract this time is exactly the same as what I had last time," said the former Ireland and Wasps coach.
"And I've spoken to Roger Lewis.
"If I had the opportunity to be involved [with the Lions] again, that's going to be because of Wales being successful in the next couple of years.
"If my whole focus and contemplation is on Wales, then if Wales are successful, you put yourself in the frame.
"Then after that it's potentially maybe the Lions approaching you, then it's negotiating release with the WRU.
"And that's exactly what happened in 2012 before the Lions this year.
"So nothing's changed with regard to that.
"Roger's said to me even though there's not a release in my contract he will do everything he can to help support me, and to hopefully make it happen if I did happen to get offered that position again."
Lewis confirmed there was no guaranteed release for the Lions in Gatland's contract.
But he added: "We will do everything we can to support as we did in 2013. We will do the same for 2017."