Jersey RFC boss Steve Boden bemoans 'soft' defence
Last updated on .From the section Rugby Union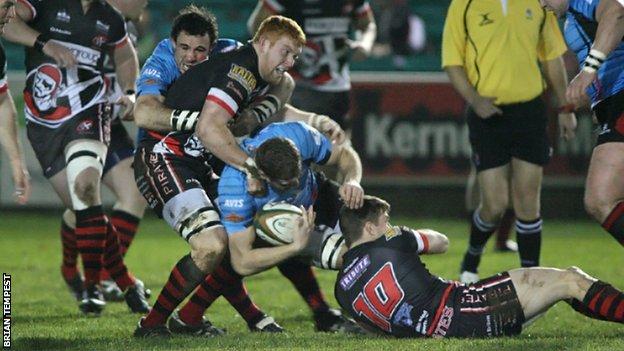 Jersey interim coach Steve Boden said his team need to toughen up their defence after conceding four tries against Cornish Pirates.
The islanders lost 24-0 to the Pirates in the British & Irish Cup in Boden's second game in charge.
"The first 25 minutes was 0-0 and probably the last 25 minutes was 0-0 but a game of rugby is 80 minutes long," he told BBC Radio Jersey.
"Some of the tries we conceded were very soft and that's a common theme."
He added: "We don't seem to make teams work hard for their points at the moment and that's where we slipped up."
In contrast, the Pirates' outstanding defence ensured Jersey - who saw long-serving director of rugby Ben Harvey resign earlier this month - failed to register a score for the first time in nearly seven years.
"It's disappointing not to get a score at home but we attacked with intent - we had a lot of half-breaks but we just couldn't finish then off," said Boden.
"I'd say there was a lot of intent but not much execution.
"We were looking to use the ball but a lot of stuff that we said in the week that we weren't going to do, we did.
"That's just something we've got to keep working on, it won't get fixed overnight, but usually if you work hard then results come off the back of that.
"The boys are a bit down because they care, which is something you need, but for me, they can keep their heads held high; it was execution, not effort.
"If it's an 'effort error' and that's something I can't coach them, but execution errors I can coach them and that's something I'll have to work harder on myself."
Jersey captain Alex Rae added: "It was the same old story, the boys are a bit fed up and I'm very disappointed as well but it's no good feeling sorry for ourselves.
"The Pirates are a decent outfit but I think we helped them a bit with the way we attacked and defended and our kicking."