Jersey back caretaker boss Steve Boden
Last updated on .From the section Rugby Union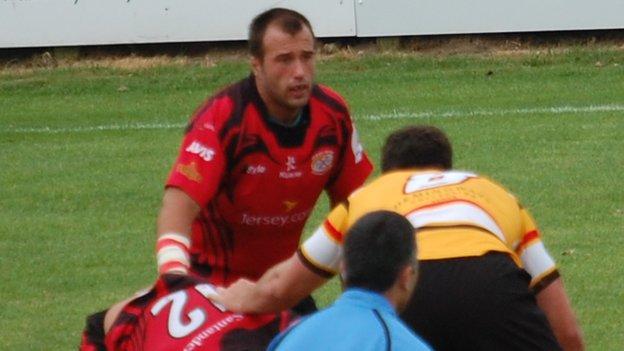 Caretaker boss Steve Boden will be given time and support to develop in the role following Ben Harvey's exit, says Jersey chairman Bill Dempsey.
Boden is in charge of the first team after Harvey's resignation as director of rugby, although the club has had about 20 applications for the job.
"We have not made a decision as to a replacement," he told BBC Radio Jersey.
"We've got a guy who we think can do a very, very good job and we're happy to support him."
Boden was previously part of director of rugby Harvey's coaching team, with responsibility for the forwards.
"He's been in a coaching role for over a year. I think he's done very well and our scrum and line-out now are as good as any Championship club," said Dempsey, who refused to put a timescale on any permanent appointments.
"These things are results-led but it's a really good opportunity for him to put his name in to the ring and become a success with what he's doing.
"He's been a success for the last year and I honestly think he'll do really well at this.
"We've got to give him more support in the backroom area - if he's out coaching every day then he can't be doing off-the-field stuff so we're mindful of that but we're convinced he'll do a very good job for us.
"If he thinks he's struggling he'll be the first to come and say he needs extra help and we'll sit down in January and see where we are.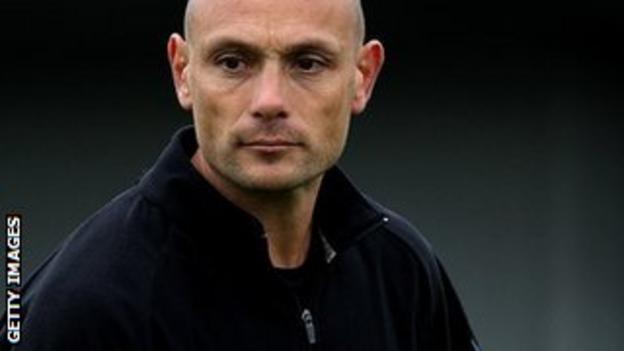 "There are a lot of people looking for jobs - we've had over 20 applicants but the reality is that if someone is not in a job in December, you have to ask why?"
Boden said the club was likely to look to the loan market to strengthen their options in their backline, with injuries to Aaron Penberthy, Tom Cooper and Ed Dawson stretching their resources perilously thin.
Back-rower Latu Makafi was on the bench covering the back positions in last week's defeat by the Cornish Pirates in the British & Irish Cup.
"We have good quality backs but we didn't have many numbers so to lose three or four really stretches us," said Dempsey.
"We may have to look at getting some loan players to cover back positions - we did it last year and it gave us a real lift and we might look to do it again.
"There's a couple of clubs interested in doing something with us. A lot of Premiership teams have 45 or 50 guys in their squad. Yes, they need cover but they also need rugby for those guys who aren't playing."