Lyn Jones: Players should stay silent in Welsh rugby debate
Last updated on .From the section Rugby Union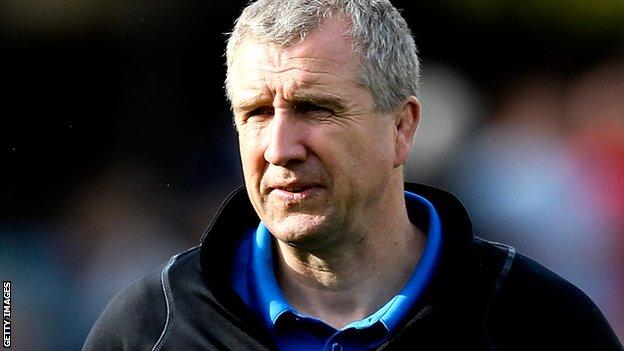 Newport Gwent Dragons director of rugby Lyn Jones says players and coaches should stay out of the debate about the future of Welsh rugby.
Wales' four regions are to meet with the Welsh Rugby Union on Wednesday.
Jones' comments came as former Wales captain Ryan Jones said he would like to see his Ospreys team play in an Anglo-Welsh competition next season.
"Coaches and players should keep their noses out of administrators' work," Lyn Jones said.
"We don't want to go back to 1997-98 where you got key players being thrown in to offer opinions to try and sway public opinion," said Jones.
"That's no way to go about it.
"Keep your business to yourself and allow players to do what they do best and that's playing rugby and allow coaches to help players to become better and administrators to get on with what they do."
Last week the English clubs confirmed they would not be involved in the Heineken Cup next year.
Rugby's governing body in England the RFU still hopes a solution can be struck to ensure a pan-European competition next season.
The mooted alternative is Welsh regions being invited to join the English Aviva Premiership.
Ryan Jones, who led Wales to victory against Tonga in November, has backed the idea of a British league with a European tournament being played out around it.
"I've said for years a British league would be absolutely fantastic," Jones said.
"I don't understand the nuts and bolts of it and all the intricacies but if I had my way that would be it."
The back row forward thinks a shake up of domestic competition for the Welsh regions will help prevent the current exodus of Welsh players abroad.
"We've got to create a domestic environment, from the national team down, where players don't want to leave," said Jones.
"My worry is it's going to leave a scar on the domestic game which is going to take a while to heal.
"We've got to be competitive financially and we've got to offer above and beyond to keep our best players.
"The stars of tomorrow need to be watching the stars of today.
"They need to be playing in teams with the likes of George [North], Leigh [Halfpenny] and Sam [Warburton].
"I'm tired of it and I know the other players here are tired of it and so are the Welsh public. The sooner this is resolved, the better.
"My worry is it's going to leave a scar on the domestic game which is going to take a while to heal."