Jonah Lomu: Guernsey falls for rugby's first superstar
By Phil Harlow
BBC South West Sport
Last updated on .From the section English Rugby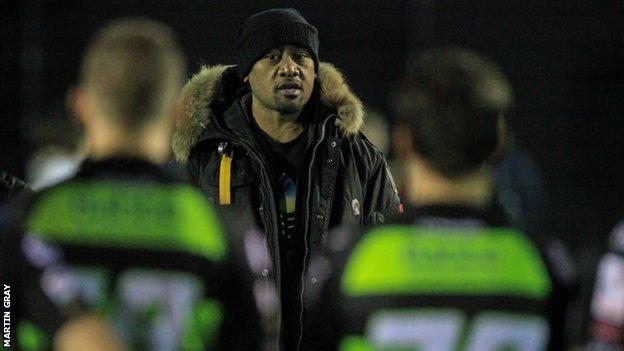 Guernsey Rugby Club, eighth in the National Three London & SE league, is not usually the first port of call for sporting superstars.
Lomu burst on to the scene as a precocious 20-year-old at the 1995 World Cup, barrelling defenders out of the way with a combination of power, strength and speed which the newly-professional sport simply hadn't seen before.
Now 38 and suffering from the serious kidney problems which have dogged him for many years, Lomu arrived at the Guernsey RFC clubhouse (having spent six hours at the island hospital for dialysis treatment) supposedly for a brief meet and greet before heading to a charity dinner.
"He was supposed to stay for about half an hour and he ended up staying for nearly two hours and made himself late for the dinner," Guernsey's academy director Charles McHugh told BBC South West Sport.
"You could see just by looking at the boys that every single one of them was paying total attention to what he was saying and was absolutely wrapped up in the occasion. He talked to them properly and respectfully and really got involved in the session.
"He's a very modest man and very unassuming, but the boys all knew exactly who he is - everybody in the rugby world knows who Jonah is."
Lomu's fearsome physical presence in his prime was enough to put doubts in the mind of any opposite number, and McHugh said one of the pearls of wisdom the leading tryscorer in World Cup history passed on to the 60-odd members of the Under-16 and U17 squads was how he drove that advantage home.
"One of the things that stuck in my mind was him explaining how he psyched out the opposition before the game, tracking down his opposite number before the national anthems and making sure he knew who he was," he said.
McHugh said that apart from some technical tips and advice on how jujitsu techniques could be adapted for use on the rugby field, Lomu - who is awaiting a donor for a second kidney transplant - also imparted some broader lessons.
"He told the boys, who are all from Guernsey which is really a small island in the sea, that being from here shouldn't inhibit them from progressing in their rugby and that if they want to take it further and move to a professional career then that was very possible," he said.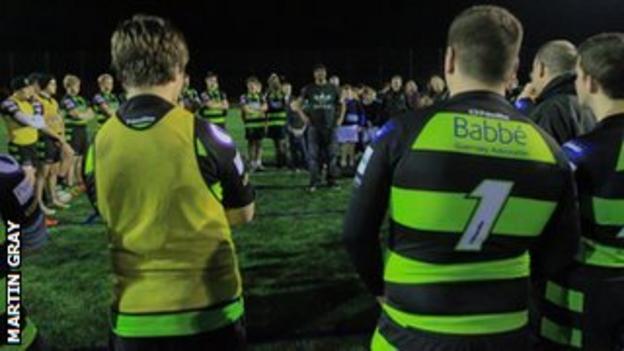 "The boys aren't going to forget they met Jonah.
"He explained how he got into rugby and his childhood background. He had a very tough upbringing: his father was an alcoholic, he left home when he was 14 and he told them a lot of stuff that really made them think.
"I think there will be an impact there because it wasn't what they expected to hear. So much now is about players who joined an academy and did this qualification and had these facilities and Jonah's story was very different - he came from a very tough background and had to find his way in the world from a very young age.
"I'm a big Jonah Lomu convert. I didn't know what to expect before he came: usually with rugby players you get the old stories about japes they got into on tour or whatever but he wasn't like that at all."