Nelson Mandela: Francois Pienaar's memories of Madiba
Last updated on .From the section Rugby Union
The image of Nelson Mandela handing South Africa captain Francois Pienaar the Rugby World Cup after the Springboks' 15-12 victory over New Zealand in 1995 is an iconic image of sport and politics combined.
Mandela, the former political prisoner turned unifying president of a nation, was wearing a South Africa rugby shirt bearing the Springbok badge - a symbol previously reviled by non-whites in the country as it was so strongly identified with the apartheid era.
Both at the time and subsequently it has been seen as a hugely significant moment, as Mandela, who died last week aged 95, sought to unify all races in post-apartheid society.
Following the death of South Africa's first black president, Pienaar talks movingly to George Alagiah on the BBC's Hardtalk programme about meeting Mandela, the impact the former president - who became godfather to one of his sons - had on his life, and his hopes for the nation's future.
On his reaction to Mandela's death
I didn't realise I would be so emotional because we knew Mr Mandela's passing was imminent and we were preparing for that.
In actual fact we knew for him to go to rest would be the best thing because he has been suffering quite a bit, but when the story broke I became incredibly emotional. The last couple of days has been a rollercoaster ride watching what is happening all over the world and what people are saying about him.
It makes you feel so blessed that you've had an opportunity to share intimate time with one of the greatest leaders the world has ever seen.
The story about the rugby has been well told but what hasn't been told is what happened after rugby. That's when our relationship actually grew and I got to know him better as a person, leaving here to go to the UK, having tea with him when he came to the UK, getting to know the man better than just in the sporting context - it was a real privilege.
Early memories of Mandela
I grew up in apartheid South Africa and as a young kid, when Mr Mandela was a prisoner, the things I heard about him were bad things - sadly so. Around the barbecue fires people would invariably talk about politics and sport and when the name Nelson Mandela came up it was accompanied by 'terrorist bad man'.
I don't know why I never challenged it - I think it was just the way I grew up as a kid, and it would come into one ear and go out the other ear - but the words terrorist and bad man stuck. That's why I went to university and started debating what the great man was all about. That's when you formed an opinion.
When he became president and I got the call to go and see him, you can imagine how nervous I was.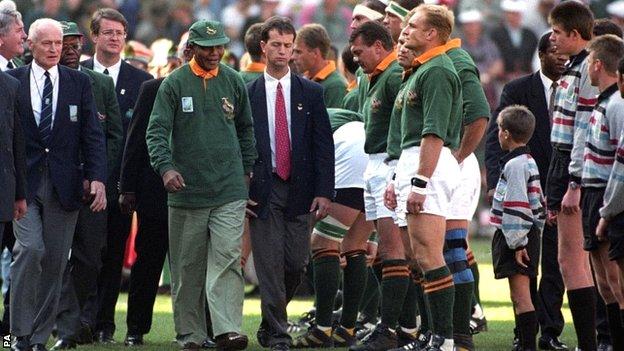 I sat outside his office at the union buildings and I could hear his booming voice, and as he walked towards me what struck me was his size - as an athlete and a boxer he's a big man [although by] then he was in his mid-seventies.
The first thing he said to me was in Afrikaans, and most of our conversation was in Afrikaans. I tried to switch to English, which was not a great thing for me to do, and he kept steering back to Afrikaans, so we had an hour's chat which was very special. I didn't realise then how special it was.
Hopefully he will have a presence for a very long time to come in our great nation, his magic is everywhere.
1995 World Cup final
Our clear focus was on the match and the detail of the match and as a captain I didn't sleep well the night before - you never really sleep well the night before a big match.
You're tossing and turning - it is the biggest thing that's ever going to happen in your life. You have one opportunity to make the right calls, make sure the team is relaxed. You can imagine how tense the players were having made the final, in your country for the first time, and we had a sense of what it meant to South Africa.
The focus was the match, the 80 minutes on the field, making sure we took every opportunity.
And we were in the changing room, still going through these thought processes, when there was a loud knock at the door and in walked Mr Mandela.
I was just incredibly emotional because [long pause as he regains his composure] there was a Springbok on his heart and if you know our history, rugby was for the white people in South Africa, predominantly the Afrikaners, and became a symbol of hate for the black people - which you can understand.
We love our sport and I'm a proud Afrikaner. When you grow up and you can play a bit of rugby, the question is always 'do you think he can be a Springbok one day?' In the years of apartheid and all the sanctions, it hurt the core especially of Afrikaners because sport is a release mechanism, and something that made us really proud.
When he walked into the dressing room wearing a Springbok on his heart, it was just 'wow'. You saw my reaction - you bite your lip and I walked over to him and actually I didn't even get to him and he said 'good luck boys' and he turned round and my number was on his back. And that was me, I couldn't sing the anthem because I knew I would cry - I was just so proud to be a South African that day.
This is 18 years down the line and I still get emotional when I think of it but [at the time] you can't be emotional because if you don't focus you would lose, and we've trained so hard to win. We'd played New Zealand on a number of occasions, our trend was up and it was a real opportunity to do something special - so immediately after he'd left I had to calm the team down. But the emotion was there and the buzz was there - it was almost like that magic came into our bodies and we were ready to go.
Receiving the trophy from Mandela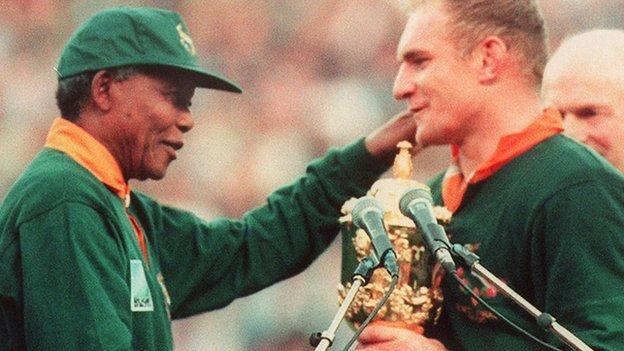 That was incredible, incredible - when I walked up to the podium and Mr Mandela stuck out his hand and said to me, and I still can't believe to this day that he said it, 'thank you Francois for what you have done for this country'. I wanted to jump over and give him a hug but I said to him 'no sir, thank you for what you've done for this country' because if he didn't ask - or tell - the ANC and the black people in South Africa that this is our team, they're playing for us, we're one team, we're one country, embrace them, then we wouldn't have had the support we've had.
I think it's very difficult to understand and contextualise how it changed South Africa. When the bus couldn't leave that night, I realised how big it was.
When I saw the images of people in the street, dancing, laughing, hugging one another, crying, like we've seen at Mr Mandela's passing, I realised it was special but I didn't realise how big it was. There are so many stories that come out the next month, the next year, 18 years later - people still talk about that moment where for the first time in our country's history we were world champions together.
How important is it for South Africans to react with dignity after his death?
Very important, and I think they will because of the respect for Madiba [Mandela's tribal name]. I was asked the question "what would happen if Madiba passes?" and I said we will celebrate his legacy.
If you look at the last 20 years what South Africa has done has been phenomenal. There's a lot of work but if you travel around the globe there is a lot of work in many countries in America, Europe, across the globe, but we have been an example of success because of Madiba.
It's now the next surge and the next 20 years. Madiba has not been active in politics for a while but his legacy will always be with each and every one of us, and we have a duty to remind people that are not following in his footsteps that they should.
What do you do that you would not do had you not met Mandela?
His love is what sets him apart from any other leader that I've met.
There is a lesson I've learned from Madiba and it's his love for everyone, for his jailors, for people that did terrible things to him and his friends and colleagues when he was in prison. Some of these people were killed after he came out of prison. I remember what happened to Chris Hani [leader of the South African Communist Party, assassinated by a far-right extremist in 1993] this country was on its edge but his love for the goodness in people is so infectious.
I set up a foundation and the reason I did that was because of him and because of my other mentor Kitch Christie, who was our coach in the World Cup. We're putting kids through school, kids that don't have money but are bright, in the best schools in South Africa and some of them abroad.
What have you been telling your sons about Nelson Mandela?
We've been talking quite a bit about it. On every occasion, I get pulled by one or the other saying, "Dad, have you seen this, have you heard about that?" They get it - they're 15 and 14 and I thought they wouldn't get it.
When Mr Mandela asked to be the godfather of Jean was a long time ago - eight years ago - but they still remember it and they are very blessed kids.