Edinburgh face 'uphill task' in Heineken Cup - Alan Solomons
Last updated on .From the section Rugby Union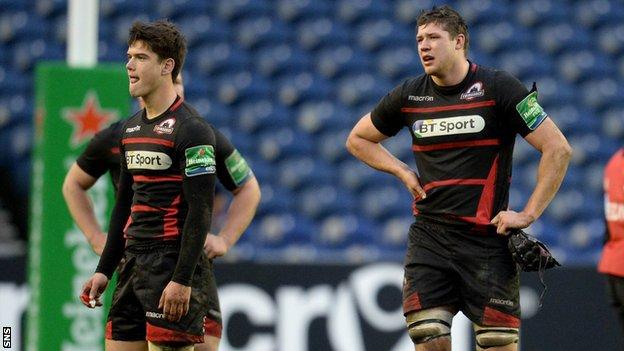 Edinburgh face an uphill task to qualify from Heineken Cup Pool 6 after losing at home to Gloucester, admits coach Alan Solomons.
The South African said emphasised his message that it will take a season for his new team to adapt to his system.
"It is very, very difficult," Solomons said of his side's qualification hopes.
"In the Heineken Cup, if you lose at home, you're in trouble, so we've made things very difficult for ourselves."
The victory moves Gloucester on to eight points, two behind leaders Munster, with Perpignan on six points and Edinburgh on four.
Solomons had warned when he took charge this summer that it would take well into the season before his team building would begin to take shape and blamed tiredness following autumn internationals for the high error count and lack of composure he thinks led to defeat.
"We just made too many mistakes," he told BBC Scotland. "I think in that second half we had 13 turnovers of concern.
"You add that to five penalties, that's 18 times you've turned the ball over. You're not going to win a game doing that.
"It is stuff that we've continued to work on throughout.
"It is a point I made to the staff and to the players. It doesn't take a month or two months or three months. It takes a long time.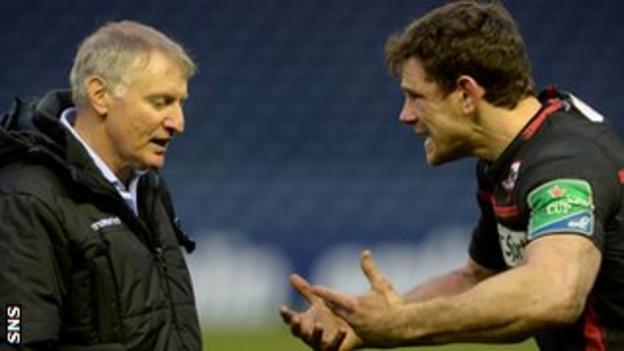 "It takes a full season to bed in things like our kicking system, because we go out of system on our kicking game, we are punished on that and obviously there's got to be a sharp focus on bringing down our error rate."
Ross Ford failed a fitness test before the game, forcing Solomons to change his starting line-up, but the coach expects the Scotland hooker to play in next weekend's return in Gloucester.
"We thought that he could make it through today, but we erred on the side of caution and I think rightly so because he damages that calf again, then he's out for weeks and weeks," he said.
"Ross will definitely return to the side next week.
"There is a certain level of fatigue already for the lads who played in the autumn internationals.
"It's good that they go and play for Scotland, but when you are in the infancy of your development, there is a break from the team and that reintegration takes a little while to get right."
Edinburgh had been looking for a fifth straight home victory after improving on poor early-season form, but they failed to reproduce the type of performance that defeated Munster in their opening home tie in Europe.
"In the game against Muster, I think we were sharper, we were more urgent in that particular game than we were today," said Solomons.
"I think today our error rate was miles higher than it was against Munster and that's where the big difference is."